The new Chaplain of St Paul's Anglican Church will serve his 11th Sunday in the Monte-Carlo Parish this weekend that will be special for several reasons. Not only will his entire family be there, including his older son Harry who will be visiting for the first time, but Hugh will be physically presenting the newly-elected Churchwardens with their staves symbolising their office and that hasn't happened for a very long time here.
It certainly looks like the new chapter of St Paul's is smoothly underway. "We are looking forward to our centenary in 2025," says Hugh, "with plans and ideas to engage with the community, across all ages through music, exhibitions and other celebratory events."
Hugh Bearn celebrated his last service in Tottington in Lancashire England on Easter Day. The next day the family – his wife Alison, younger son Freddie and their West Highland Terrier Cameron (the 3rd), drove over three days to Monte-Carlo.
"Of course, it's a different place but people are the same the world over, affected by the same things: sadness, loneliness, happiness, how the kids are getting on, falling in and out of love – if the Church can actually serve people with no hidden agenda and be a Christian witness that's enough isn't it?"
We are sharing a cup of tea in the Church apartment, which Hugh refers to as the Vicarage. He doesn't spend much time in it. He is often seen at the top of the public steps talking to anyone that goes past speaking "In a variety of languages which is no more complicated than hello."
He definitely is a people priest with an outgoing personality and a great sense of humour. However, looking around the spacious sitting room decorated with the paintings and photographs that include his closest family, the College of Royal Chaplains and Her late Majesty The Queen. I ask for the context.
"I was appointed Chaplain to The Queen in 2006 and upon her death was made Chaplain to The King. I preach annually at the Chapels Royal in London and attend other royal gatherings, with the privilege to wear the Scarlet of the Royal Foundation and the Badge of Office of a member of the Sovereign's Ecclesiastical Household in England."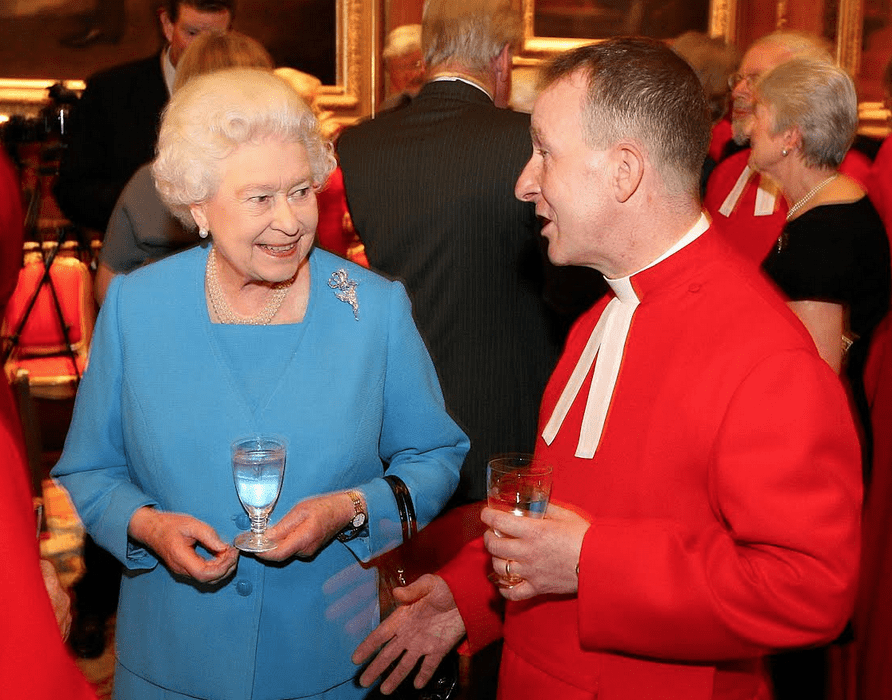 "But I can assure you." he adds: "I come from a very, very working class background." Born above the milk yard, in Headington, in the south of England, Hugh comes from a family of five children. His Scottish father delivered milk, later became a bus driver, while his mother worked in a corner shop. They lived in a small, terraced house with an outside toilet. "I am really grateful for my background. It keeps me grounded."
As a schoolboy he used to deliver milk before school, as a teenager had a jobs cleaning toilets, as a petrol pump attendant, worked as a college servant at Pembroke College, and painted yellow lines on the roads, just to mention a few.
He graduated in 1984 from the University of Manchester with a degree in Archaeology and Ancient History. He spent a year teaching at St Edmund's School, Canterbury before he began his theology training at the University of Durham. After that he also completed his MA in Social and Pastoral Theology back in Manchester.
"As a little boy I always thought that I should be a priest." This is rather extraordinary given that Hugh's parents rarely went to church. "Once God got you, He's got you. It seems to me that the more you are trying to get away, the more He brings you back."
His first parish in Bolton was the most formative experience under the supervision of Robin Johnson, "the most extraordinary priest and human being." "He taught me how to be a Parish priest, how to be thoughtful without being academic, how to be pastoral without being stupid. Theology is out there, he used to say and within the spectrum of humanity, "you don't need books to understand God. The answer is always Yes, nothing is a drama. Although sometimes we have to say no!"
Hugh was also a hospice chaplain for 24 years. "This was one of the most valuable aspects of what I did in Bury. I often think of all those young people particularly, whose hands I held and families I supported while they were dying…and that provides a massive perspective on what is truly important in life."
Hugh is influenced by the Benedictine tradition – living life in the light of death. "If you realise you are mortal, then every moment is precious. And how are you going to use that moment? Perhaps in making 'a habit out of Joy.' And to do that we have to battle against our natural inclinations perhaps. This is the part that people who do not go to Church don't get. They may think that churchgoers have everything sorted out. But this is not true."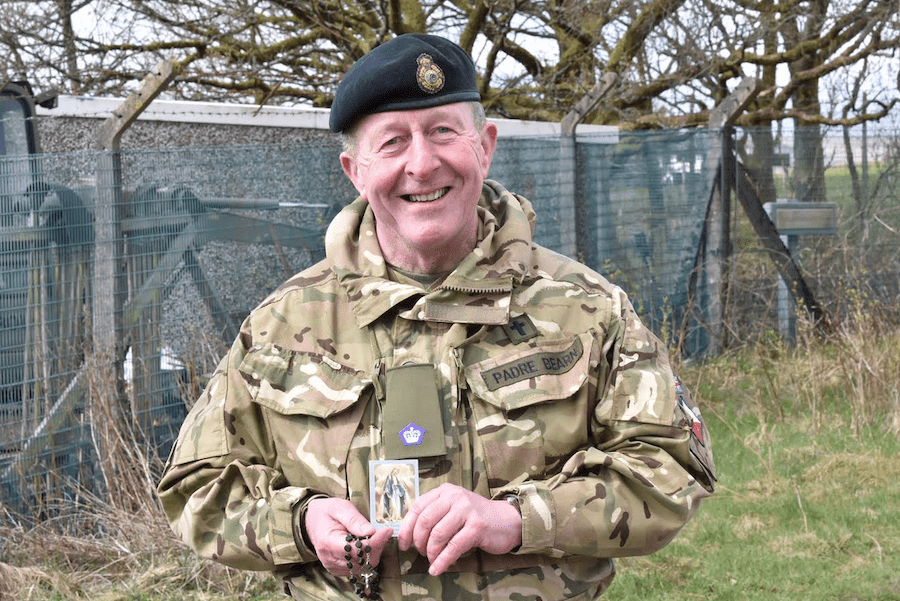 Chaplain Royal, Army Chaplain's Department TA
Hugh is a perennial optimist. Each year he plans and plants, knowing full well it will be months—or even years— before the results of his labours will come to fruition. "I am perennially optimistic about human life because I am Christian and God is God whatever human beings do. And actually, love is greater than anything – but you have to have faith to believe that, and it takes an effort – you
can't just flick the switch to turn it on."
Hugh's day usually starts at 8 am with devotional reading and prayers. He is a list maker and prepares everything two weeks in advance. "If the unforeseen happens you are ahead of the game." If there is any spare time he likes to do gardening which he also considers a humbling experience – "If you have a garden you realise very quickly that you are not completely in charge." In England he left behind his rose collection and it's only a question of time before the first flowers will start to show up in his patch of garden at the vicarage.
The entire family is rather big on sport, in particular rugby, cricket, and football. Alison, has, according to Hugh "an encyclopaedic knowledge of sport in general. She is also the only person I was able to convert from being a Leicester City supporter to Manchester United." They met at the College library in Durham, which became an alma mater for all the Bearns. "We are a pretty organised family, a tight unit and look after one another" says Hugh who, as I leave, shows me a photo of him as a little boy with his siblings. "If I had to rescue one photo of all the ones we have in the apartment I would choose this one. We should never forget where we came from."
Below, Hugh (front) with brother and sister