The hotly anticipated Monaco Grand Prix is finally upon us in its 80th edition this year, as Formula 1 teams descend on the Principality ahead of a hectic race week. To make the packed schedule more comprehensible, the event organisers, the Automobile Club of Monaco has published a timetable that can be viewed below.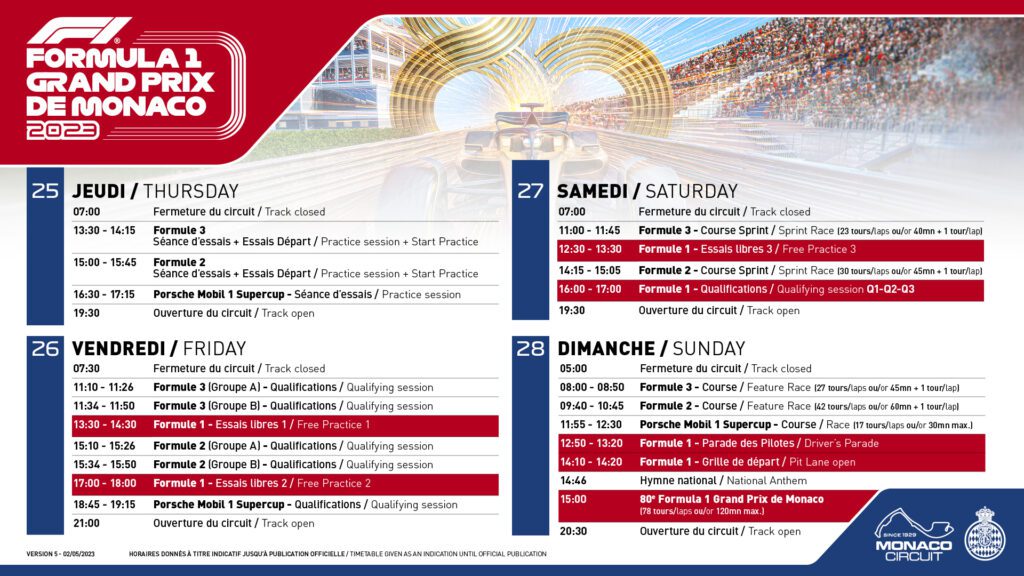 The circuit will first close to the public on the morning of Thursday, May 25 at 7:00, with Formula 3 first taking to the city streets in the afternoon for a practice session ahead of Formula 2 and Porsche Supercup practice sessions. The circuit will reopen on Thursday at 19:30.
Friday will be the first day of F1 action, giving spectators an opportunity to see their favourite drivers on track across two Free Practice sessions, from 13:30 until 14:30 and from 17:00 until 18:00, with the circuit not opening again until 21:00.
Saturday will see an F3 and an F2 Sprint Race, separated by the third F1 Free Practice session and followed by the all-important Qualifying session from 16:00 until 17:00.
Sunday is the big day. The circuit will be closed to the public from 5:00 on Sunday, May 28 to allow for F3, F2 and Porsche Supercup races to take place ahead of an F1 filled afternoon. A drivers parade will see the drivers take to the track one last time before the race, from 12:50 until 13:20.
The Monegasque National Anthem will proceed the Monaco GP, which will begin at 15:00. 78 laps of the city circuit will be raced or the race will finish after 120 minutes. After a series of on track festivities, including a winner's lap and the podium celebration, the circuit will reopen at 20:30.
Featured image courtesy of @ACM_Media on Twitter