There's something irresistibly alluring about an English walled garden. The classical exterior and formal design is juxtaposed by the blossoming nature that flourishes within. It's where art collides with science and beauty in equal measure. The peace and calm sits in harmony with the rich abundance of life and the riot of colour. And as Lady Chatterley would surely attest, every good garden harbours a secret or two.
Lou Gréther, the head of Sotheby's in Monaco, may well exude the under-stated classical beauty of an English rose, but I can assure you that she is anything but a wallflower, and I have the bruises to prove it! My neighbour and fellow 6 am Bootcamper has regularly beaten me to a pulp three times a week during our dawn boxing sessions. With not a single elegant petal in sight, she displays a strength of mind and character matched only by her ability to deliver a vicious right hook, followed by a jab and the occasional uppercut.
"But what will you write?", she quizzes me , "I hope I'm not too boring!". Boring is not one of the adjectives I was considering. Nothing could be further from the truth, for when you dig deep enough you discover that even the prettiest blossom grows from elaborate and intertwined roots.
As I sit in the Sotheby's gallery scribbling my interview notes, I'm slightly distracted by the eye-poppingly beautiful Massimo Listri photograph hanging majestically on the back wall. Lou is casually under-playing her achievements but, just as the camera never lies, she can't hide what has clearly been an abundant and fulfilling path that has led her to her current position. As I refocus and the picture develops, rich images emerge on my paper, ones I had never previously learned about in the boxing ring.
Growing up in the rolling hills of Hampshire, little Lou's early years were very far removed from the glamour of Monaco. Her parents were good Catholic folk who believed that a strict convent school run by nuns would be the best education for their beloved daughter. Alas, the nuns turned out to be rather mean and their idea of a good education included time walking around with books balanced on one's head. Not much fun for a young girl but clearly very effective at perfecting deportment and poise. Lou is not only tall, she also stands tall and floats along like a demure Grecian statue. Needlepoint was high on the curriculum, too. Lou, unfortunately, disliked the firm boundaries and constraints of school life and couldn't wait to leave. Her character was too colourful for such rigidity. She's a gorgeous fusion of both her parents. Her mother was artistic, calm and had "wads of style", and her father was "completely mad"; an entrepreneur with a great personality and a passion for jazz.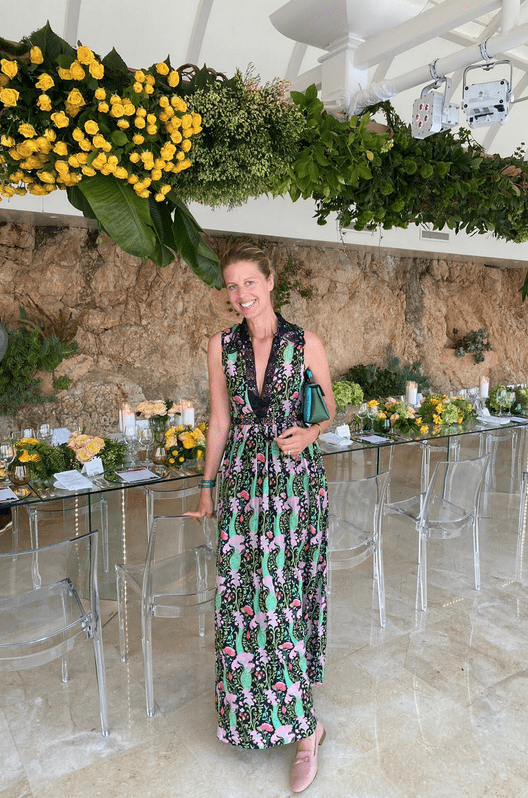 So, as soon as she was able, she bolted off far away to Edinburgh University to study Economics and Politics. Her final year thesis paved the way to her first face-to-face interaction with crime. During a work placement with the Scottish Prison Service, her role was to interview both the sex offenders and the prison service officers who guarded them. "Sometimes it was rather difficult to tell who was the criminal!", she laughs.

Not long afterwards, a letter to Nick Ross at the BBC's Crimewatch UK fame led to a role as a researcher assisting with televised crime reconstruction. She absolutely loved the job but when one of the main presenters, Jill Dando, was brutally murdered, her own safety became a priority and she reluctantly decided to leave. Normally beautiful spies only feature in Bond films, however Crimewatch UK led on to other super-sleuth opportunities; including an interview for MI6 and then 8 years for US-based Kroll in their business intelligence and investigations practice, working on complex investigations and litigation cases, one of which involved working as a private detective for a well-known figure who is now enjoying the long-term delights of a Californian state prison. Not one to sit on her hands, this time was also used to complete a Masters degree at John Hopkins (SAIS) in Washington and Bologna.
Hubby arrived on the scene via a chance meeting on the ski slopes in Chamonix, and she not only followed him off the piste but all the way to Paris where he was working as a long-haul airline pilot. Life in "gay Paris" was challenging at first with rather limited Franglais but she quickly found work as a receptionist for a Hedge Fund based on the Champs Élysée. Initially she was "terrified" of answering the phone. "Un instant SVP!" she'd splutter, before passing the confused French caller off to her very understanding boss!
The Paris-based pilot eventually became the Paris-based husband but by the time baby number three came along the lovely Fabrice suggested they should all move back to his homeland of Monaco. Not long after their arrival, a friend introduced her to François Tajan, the late founder of Artcurial. She was both honoured and bemused when he asked if she'd like to set up an Artcurial auction house in Monaco. "What on earth am I supposed to do?" she asked, having never before worked in the art world. Thankfully for the statuesque Lou, she didn't have to worry, as she is practically the embodiment of a work of art herself. Her mother had taken young Lou to art galleries and museums, and those experiences, coupled with her invaluable time working as a crime detective and investigator, gave her a wonderful parallel in which she, once again, became the detective seeking out buyers for specific pieces. Lou spent seven happy and rewarding years with Artcurial in Monaco, before being approached to head up the new Sotheby's gallery and auction house in Monaco just under a year ago. She describes her role as "needing to be a jack of all trades, you need to be a born diplomat and have immense patience". 

Needless to say, this is one helluva classy, sassy, smart lady. Her elegant aura is verging on the ethereal and impossible to ignore. She is the calm, reassuring voice in a restless, crazy world. In our "look at me" society, such dignified grace and discreet, educated charm is a rarity indeed. Nicknamed "The Queen" by one group of colleagues, there is definitely a regal air about her but don't be fooled. There is a mischievous little devil that lies within. Lou regularly playfully sprinkles just enough Je ne sais pas quoi here and there to keep you on your toes. 
This superwoman is not only a leading figure in the art world but also a mum of three, wife, and my regular sporty sparring partner. As the song by Stephen Stills goes, Love the One You're With and I do truly cherish spending time with Lou, but as the lyrics go on to say there's a rose in a fisted glove and I remind myself to be vigilant in case the rose is Lou, about to land yet another packed punch.