If you create something that people truly need you are bound to be successful. Four local mothers experienced a gap on the market themselves and also listened to other parents. A 430-people survey they conducted in both English and French identified the enormous need for network support at very early ages of children right from pre-conception.
"The parents that participated in the survey felt isolated and ill-informed, so the idea of simple and intuitive guidance that would facilitate their daily lives was the basis for our all -in-one digital tool," says Clémence Perrin- a Swiss who grew up in Monaco and is one of The Tribe (La Tribu) as the instigators and creators working on a completely voluntary basis like to call themselves.
Anna Campbell is a British expat and Johanna Damar Flores and Emily Sabatié are both French. They started to work on this idea three years ago. Anna was one of the people who answered the survey on social media and joined the team straight away.
"I have three children – all born in Monaco – so the survey absolutely resonated with me, because I did struggle, thinking it's because I am an expat, but then I spoke to many of my friends and they had very similar experiences."
The team with seven children between them with the eighth on its way has set to work very hard to use the answers from the survey to create the concept of the entreparents not-for-profit Association but also create an app, which was developed thanks to collaborative work between parents and experts, and with the financial support and trust of the Prince's Government, the Cuomo Foundation and Monaco Telecom.
"It was a long learning process in every aspect, which was great for us, but technically we entrusted our baby-project to the team of developers at Carlo Technologies, founder of Carlo app", says Anna.
The entreparents app will launch on June 1, the International Day of Parenting. A free mobile application, available 24/7 in French and English will be available on the Apple Store and Google Play.

There are three features the app will include:
A Chat, to ask questions 24/7 on all parenting topics and share advice and tips and support.
A Step-by-step, information pathway to find the right info at the right time, from preconception to a child of 3 years+. "For now", says the team. "It's a dynamic tool that will grow but at the moment we have stopped at the age of three because the children enter the school system and then there is extra support."
An Events Calendar, to connect parents and families in real life, beyond virtual connection.
The mission of the app is to make the path to parenthood more serene and supported by connecting parents to each other and to their local services.
"We would also very much like to support other people's initiatives – together with Marion Cellario, a bereaved mother and trained professional, we have recently launched a perinatal bereavement support group, a much needed service that has not existed here until now. Other initiatives are also work in progress like a second hand children's clothing sale, which is very popular, and is supported by many parents including Alyssia Ballerio of Nous Deux Mains, a new second hand children's clothes business in Monaco.
We want the entreparents mobile application to become the daily reference for parents in our community, that they download it as soon as they plan for their baby and use it when they need, day and night."
The Launch of the App, in June starts a busy chain of the events that support and celebrate the parenting community in Monaco and neighbouring towns.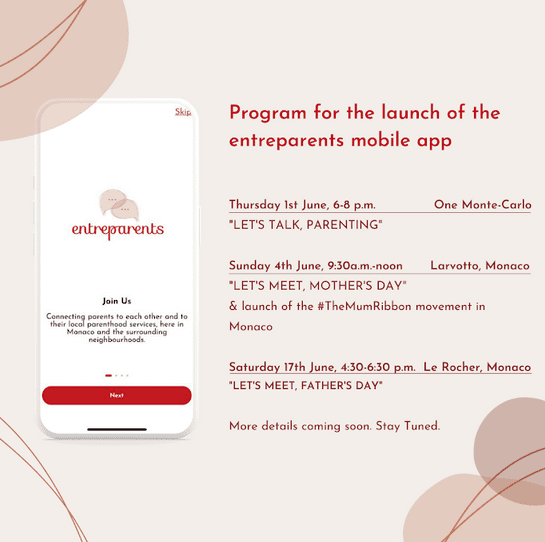 On Thursday, June 1, at 18:00 – 20:00 at One Monte-Carlo: "Let's Talk, Parenthood. How are parents born?" entreparents present a screening of two episodes of Eve Simonet's documentary series "Big Bang Baby" that will address the themes "Becoming a parent: the identity crisis" and "What place is there for parenthood in society?"
The screening is followed by a discussion with Eve Simonet (the director), Marion Cuerq (specialist in Sweden and committed to the defence of children's rights, author of the book une enfance en nORd) and local players, professionals and parents. This is a free & child friendly event. Reservation mandatory. Limited places.

On Sunday June 4, 9:30-12:00 at Neptune, Larvotto : Let's Meet: Mother's Day, the Entreparents Association will offer mothers a moment of relaxation: yoga classes guided by Jacqueline Blumenschein, music and breakfast offered by Le Neptune Beach.

The launch of the #TheMumRibbonMovement in Monaco will offer entreparents ribbons to mothers to hang on their bags and pushchairs. The ribbon is the symbol of a close-knit community of parents showing support for each other.
By having the ribbon mums are saying: "If you need to talk, I'm here to listen to you. If you need anything, I'm here to try to help you. I may also need some support, so don't hesitate to come and talk to me."


The #TheMumRibbonMovement is part of the mission of the entreparents network: to reduce parents feeling isolated, by connecting them to each other and promoting exchanges and sharing.
Events will be listed regularly in This Week in Monaco at NEWS.MC
PHOTO: La Tribu: Emilie Sabatié, Johanna Damar Flores, Anna Campbell, and Clémence Perrin