Stellar George Condo's Humanoïds solo exhibition curated by Didier Ottinger with a spectacular scenography by Christophe Martin has opened at Villa Palma, Nouveau Musée National de Monaco.
Over the course of six sections, the exhibition traces the continuity of a profuse body of work that ranges from "space beings" to Who's Who, from Guido Reni to Bugs Bunny and brings the viewer even to the beautifully manicured gardens of Villa Paloma to find the "Constellations" sculpture by the artists.
In George Condo's own words, "the humanoid is not a science fiction monster, it is a form of representation that uses traditional means to bring out the inner emotions onto the surface of a person". The mimetic ideal that has predominated in the history of art has led to the creation of an incalculable number of representations that are "similar" or "comparable" to humans. However, only a few rare effigies have attained the level of "humanoids" or "golems" seemingly on the point of coming to life. Rembrandt's portraits are among these.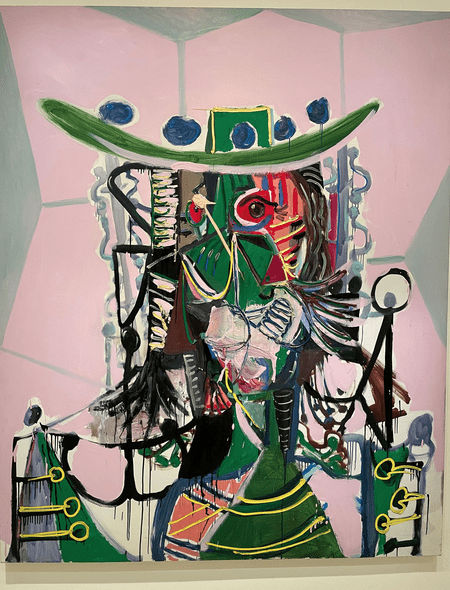 George Condo moved modern painting towards the "almost human". He tackled the problem at its source: he seized Cubism, reversed its intentions and humanised it. He became the champion of "psychological Cubism", wanting to see in the deformations painted by Picasso or Braque, not the birth of "pure painting", but a realist exploration of the human psyche. In so doing, Condo has followed in the footsteps of Fénéon who, when he visited Picasso's studio at the time of Les Demoiselles d'Avignon, advised the young artist to devote himself to caricature. Condo has pursued this path, placing Cubist deformation on the same level as that of the caricaturists: a unique way to reinvent Figuration.
George Condo's works are in the permanent collections of many major museums, including the Metropolitan Museum of Art (New York), the Museum of Modern Art (New York), the Broad Foundation (Los Angeles), the Tate (London) and the Musée National d'Art Moderne – Centre Pompidou (Paris). The painter has been invited to lecture at several prestigious institutions and taught a six-month course entitled « Memory of Painting » at Harvard University.
In 2021, the Long Museum (Shanghai) presented The Picture Gallery, George Condo's largest solo exhibition in Asia. In 2019, the artist participated in the exhibition May You Live In Interesting Times at the 58th Venice Biennale. The retrospective exhibition Mental States, first shown at the New Museum in New York in 2011, has since moved to Rotterdam, London and Frankfurt.
The artist is now represented by Hauser & Wirth Gallery.