Monaco Legend Group is excited to offer a unique and very special Rolex Yacht-Master that has been consigned for the April sale. The watch is made entirely in platinum and is a prototype ordered by the Heiniger family. Andre Heiniger became the president of Rolex in 1964 and was succeeded by Patrick Heiniger, who took over from his father in 1992. The Heiniger father and son duo led the brand through some of its most important moments and are credited with establishing the brand as the ultimate luxury business; a legacy of their personal and professional relationship.
This has been consigned by a descendent of the Heineger family
The Heiniger family was known to have created some very interesting and unique watches that are now highly prized by collectors, such as the trio of platinum Daytonas with unique stone dials with special reference 16 516. It is also believed that the Daytona reference 116 598 SACO, known as the Leopard, was inspired by Patrick Heiniger's then-girlfriend Nina Stevens. Today Monaco Legend Group presents another special piece created by the Heinigers, a one and only platinum watch, made to commemorate the ten-millionth chronometer movement – a unique Yacht-Master piece.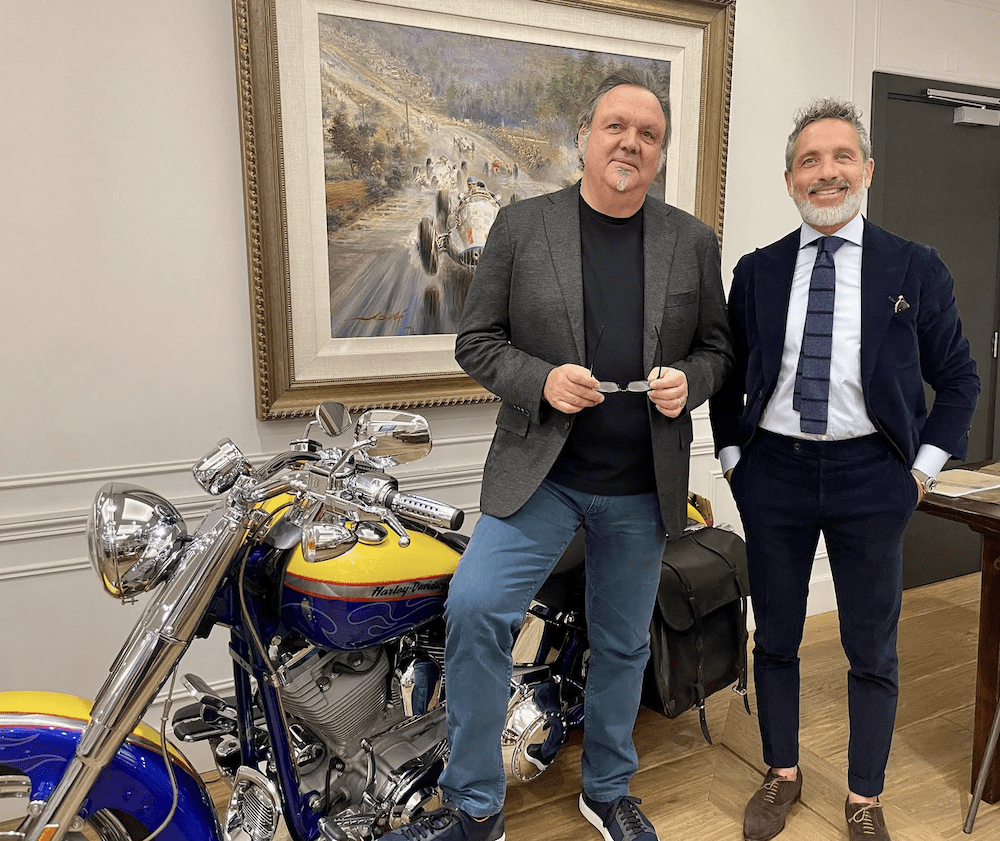 Monaco Legend Group Co-Chairman, Davide Parmegiani, with MLG Co-Chairman Claude Cohen
The watch is made entirely in platinum and features the Yacht-Master reference in the case back. Furthermore, the watch is fitted with a platinum Oyster bracelet, complete with flip lock, which is also unique. The dial features diamond hour markers with baguette-cut sapphires at six and nine and a triangular-cut sapphire 12. Similar in some ways to the known Serti dials, this unique silver dial has a one of a kind colour and finish and is signed "DIX MILLIONIEME CHRONOMETER".
Rolex has been known for almost a century as making chronometer movement driven watches available in its wristwatches. When it completed its 10th million, a special occasion by any standards, the moment was marked by the creation of a specially engraved rotor. This movement was then placed in the present platinum Yacht-Master.
This remained with the family until today and marks a very important moment in time for Rolex. Now this watch will be auctioned in Monaco in April 2023.
Monaco Legend Group Co-Chairman, Davide Parmegiani, could not be more thrilled to have such a piece to offer in the spring sale. "Rolex spent the last 80 years marketing the importance of their movements and the fact that they are officially chronometer certified. Since the mid-1950s Rolex was pointing out that they were the leading brand making chronometers. So, we can truly understand how important it is that we have the 10 millionth officially certified chronometer in a prototype watch.
Moreover, the watch is made of the rarest of metals with an incredible unique dial and it comes with outstanding provenance directly from the family that marked the history of the Rolex company. Compare this to the $17 million paid for the Paul Newman, which was solely for the provenance that it was Mr. Newman's watch; this is a Rolex made by the chairmen of the company for their family and a unique piece that was never offered for sale. For me this is something really incredible!"
MLG Co-Chairman Claude Cohen is very optimistic about the sale: "I am very pleased by the line-up for our next April Auction and feel sincerely humbled and delighted by the trust that our clients have placed in us with their consignment of outstanding pieces. I am looking forward to seeing you all on the 22 & 23 April at the Méridien Beach Plaza Hotel and on our online bidding platform!"