In his 30-year career as an artist, Marseille-based Italian David D'Alessandro has created over 1,300 watercolour paintings. His work has been highly successful from the very beginning, when he started work with shipping companies – painting ships, originally on their presentation cards.
In 2021 he produced a watercolour painting on an authentic maritime map of Monaco's coast representing the sailing yacht Tuiga. The painting was selected by HSH Prince Albert II for the Cultural and Artistic Heritage collection of the Palace of Monaco and has been on display at the Yacht Club of Monaco since March 21, 2022.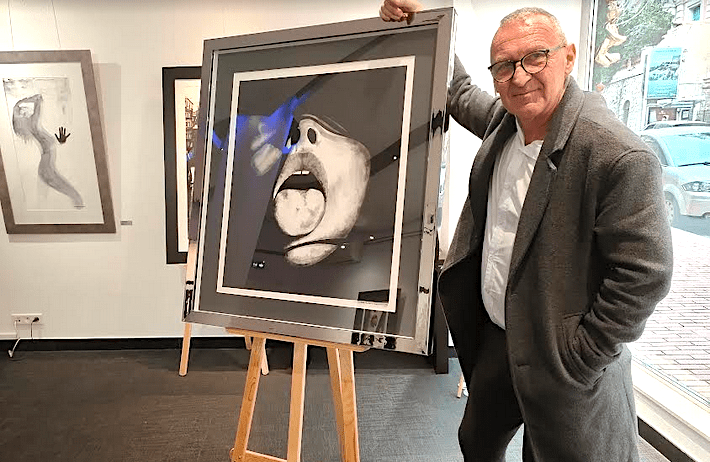 David d'Alessandro is a very modest man. He considers success only a by-product of his passion. Ninety percent of his paintings have now been sold and five of those are in the possession of HSH Prince Albert who visited David's exhibition in Mougins in 2021 and from there a friendship grew between the two men.
The current exhibition of David D'Alessandro paintings at the Espace 22 Gallery on Blvd d'Italie is his very first in Monaco and already has been prolonged by four more days until January 12 due to its extraordinary success.
The Exhibition carries the name Sensualità. The black and white portraits with occasional spots of red seduce, tease and evoke a rich variety of emotions drawn directly from life. At first sight some may look like photographs, but on a closer look they reveal the exquisite work of paintbrushes, subtle but precise.
The exhibition is in high demand and David D'Alessandro's 2023 schedule is full to the brim – it includes venues in New York, Brazil, Switzerland, Italy and France. Until next Thursday his art and the artist himself are still in Monaco. The Espace 22 Gallery is open daily, including at the weekend, from 11:00 until 19:00.
PHOTOS: Top, Prince's Palace, centre, Martina Brodie