The chances of power cuts in the Principality this winter have diminished thanks to better prospects for France.
Being almost 100-percent dependent on cross-border supplies from its neighbour, Monaco appeared vulnerable to possible power cuts.
However, a number of factors have combined to reduce the threat of outages in France during the months to come.
The first among them is the mild weather of recent weeks which has cut consumption; even in November's cold spell EDF estimates a fall in demand of close to 10 percent. While the warmer weather may be more a matter of luck than planning, another significant development has been the progress in bringing more nuclear power back online following months of downtime for urgent reactor repairs.
French grid operator RTE has accelerated work on reactors that needed urgent maintenance, after a long period during which such routine but essential work appears to have been postponed.
The nuclear power plant that is at the epicentre of the nation's push for better performance is Penly, in Normandy on the English Channel. Here, two reactors have been paused for many months for urgent and overdue work to combat corrosion.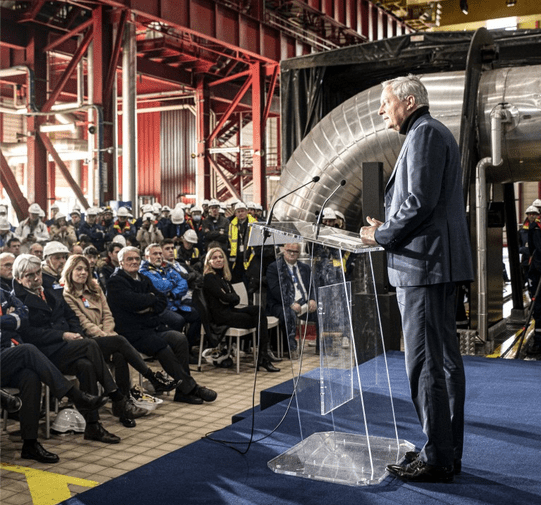 In December, France's Minister of Economy Bruno Le Maire visited the site, where he thanked the staff for working night and day to get the plant back to work.
He told a meeting of employees: "Whenever there is an interruption, a breakdown, a challenge, you are there. Thank you. When the problem of stress corrosion arises, you tackle the problem head-on, you work night and day to restore the reactors. Thank you to EDF, thank you to each and every one of its employees. There is no great industrial nation without nuclear energy."
Penly is due to restart its two reactors within weeks, if not days. Penly coming back on stream will help France, and Monaco, avoid power cuts this winter.
However, much will now depend on which way the wind blows, bringing in Arctic blasts, or ushering in warmer weather from the west and south.
PHOTOS: Top, the Penly nuclear facility, an important part of France's nuclear family, centre, Minister of Economy Bruno Le Maire thanks the workers at Penly EDF