An emblematic work of the Principality's historical and religious heritage, the Gonfalon des White Penitents, has just been permanently installed in the Chapel of Mercy.
The state of this processional banner had required complete restoration, which was started in 2019.
The work, more than two metres high, painted in oil on both sides, is made of crimson damask edged in gold.
It offers on one side a Pietà of Saint Nicolas and Saint Devote and on the other, the Birth of the Virgin surrounded by Saint Nicolas and Saint Dévote.
The first written mention of the gonfalon dates from November 21, 1640.
Presented on the occasion of a religious service, it had been made in Genoa by an unknown artist at the request of Madame Luisa Trivultia Cagliente, wife of Commander Cagliente, in charge of the garrison of Monaco until 1641.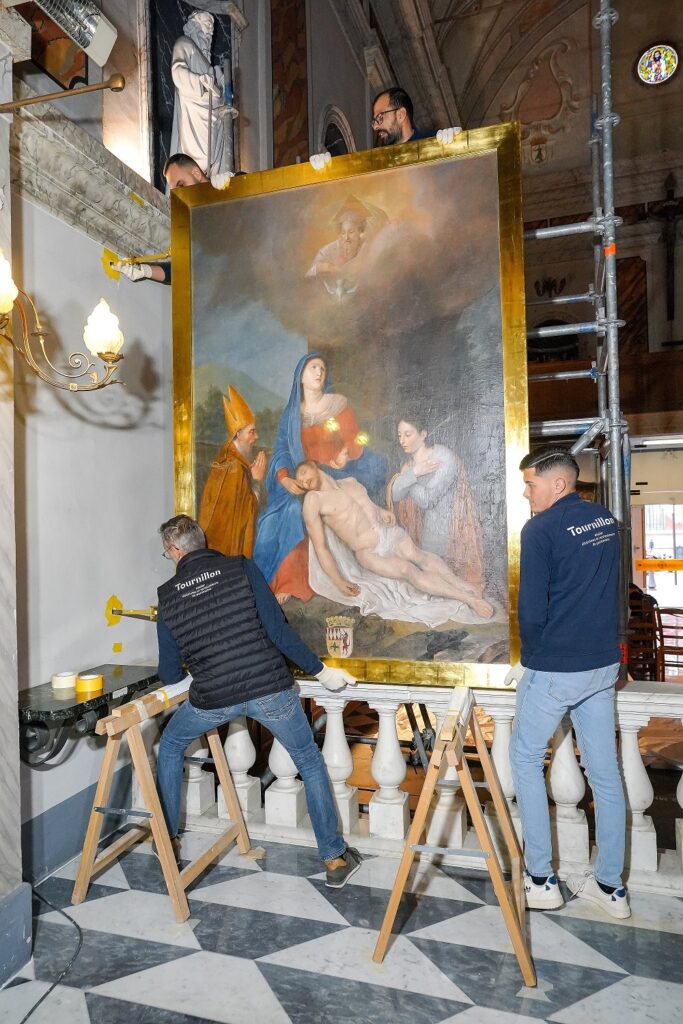 Being double-sided, it required the implementation of a specific hinging device allowing visitors to admire both sides of this remarkable piece.
This work has been restored as part of the restoration policy carried out by the Direction of Cultural Affairs of Monaco through the Heritage Institute.
The work was carried out by the La Réserve workshop, which set up a special team for the occasion. composed of Thierry Martel for the restoration of the canvas, the Feuardent Restoration Workshop of Florence for the pictorial layer and Atelier Gilles Tournillon for the creation of the frame.
ORIGINAL SOURCE & PHOTO: Monaco Government Press Service