The second consecutive year award confirmed that the best burger in Monaco is indeed at Arrow Burger on the Rock. The management and the team claim they have been making the best burgers since the time they opened in 2015 – only recently has the world caught up with the awards and the stamp of approval from Monte Carlo Gastronomie. 
"The first ingredient is love,"' said Manu, the manager, when I approached him for a comment. "Then it is the best Pain Brioché and the best Angus beef available."
The meat comes from Germany and the chef – Ernie – from the Philippines. The rest of the team is French and the food takes you all around the world with flavours from Mexico, New York and India.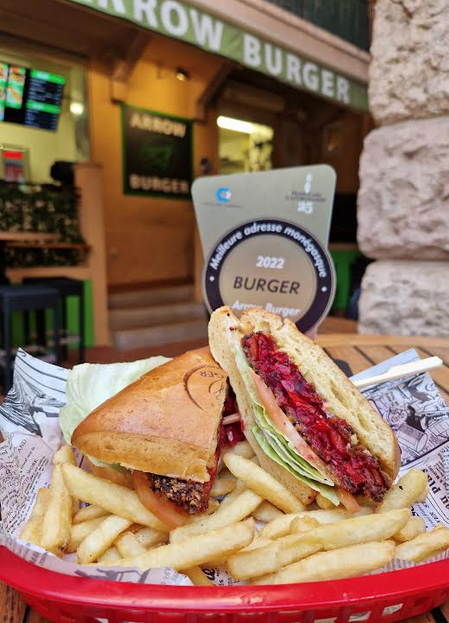 All served from a tiny little kitchen with tables and chairs outside. On a busy day they serve around 250 burgers and, wait for it, vegetarians and vegans are feasting there, too. The choice of Veggie burgers is impressive and apparently in high demand.
They deliver all around Monaco, Cap D'ail, Beausoleil and Roquebrune. The steady flow of devoted followers makes them busy from 11:00 to 14:30 and then from 18:30 till 21.45.
As I got off the number one bus at Monaco Ville looking for the place I had – admittedly – never visited before, I got a bit lost – and instead of asking Manu for directions I approached a member of the Police de Monaco. "Excuse me Monsieur, where is the best burger in town?" I tried. "Oh, that must be Arrow Burger," he replied and pointed in the right direction. I guess he is used to it. www.arrowburger.mc
PHOTOS: Top, From left to right: Amine, Antoine, Manu – the manager, Ernie – the chef and Remy, centre, Veggie Beetroot and Quinoa Burger.