Dr Rachel Moss, an Irish art historian and professor specialising in medieval art, with a particular interest in Insular art, medieval Irish Gospel books and monastic history, came to Monaco to shed light on one of the most famous manuscripts, quite possibly medieval Europe's greatest treasure and one of the most cherished masterpieces in Ireland.
Once again the Princess Grace Irish Library brought together the theme, the expert and an appreciative audience which on this occasion learned the story of the Book of Kells. It most probably originated on the Scottish island of Iona, the work of Columban monks who later relocated to Kells in the early 9th century, the same time that the Book of Kells was known to have first appeared.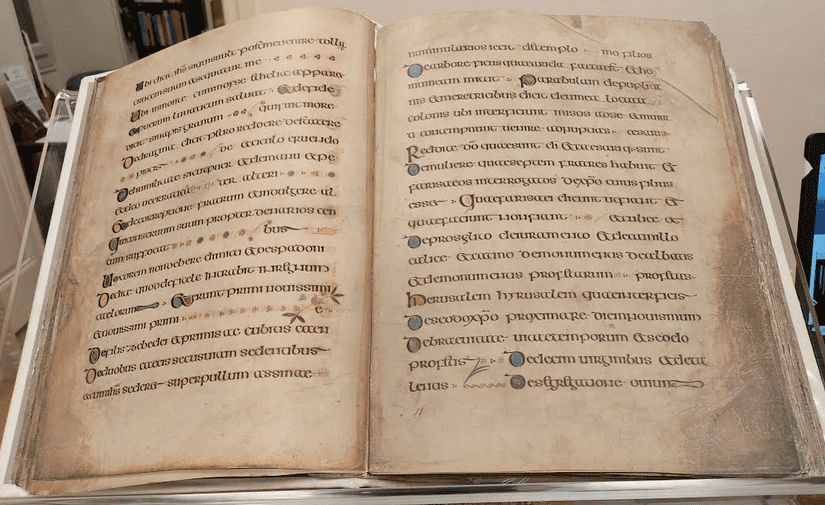 The facsimile of the Book of Kells at PGIL
Written on calf skin – papermaking was brought to Europe 200 years later – the Book is an illuminated manuscript of the four gospels of the Christian New Testament made with an unprecedented intricacy, detail and colours created from minerals and plants that were not seen on the manuscripts of that time.
This major relic of the western world has had a tumultuous journey through the centuries – it was once stolen by Vikings and buried for three months, only to be recovered with the cover pages heavily damaged.
In 1661 the Chancellor of Trinity College and Bishop of Meath deposited the manuscript in Trinity College Library and it is there, in her majestic Long Room, where we can see the Book of Kells on display today.
In September 2021 HSH Prince Albert II visited Dublin's Trinity College with a major benefaction made to the conservation of the iconic Old Library at the College. The Old library is home to more than 200 000 books in need of preservation. The Book of Kells is one of them. Admired by more than a million visitors every year, its history continues.
Visitors to the Princess Grace Irish Library in Monaco can admire a facsimile of the Book of Kells donated to the Library in 1990 by Ireland's Honorary Consul in Monaco Sir Michael Smurfit.
Dr Rachel Moss is the current head of the Department of the History of Art at Trinity College Dublin, where she became a fellow in 2022.
PHOTO: Her Excellency Anne-Marie Boisbouvier, Dr Moss, and Mr Peter Murphy Martina Brodie