Hope Richardson Swales might have moved to Monaco in 1991 but her first encounter with the Principality happened when she was six.
She was then living in Salt Lake City, Utah, where her dad had a job as a mining engineer. Her mum, a teacher, an avid reader of the New Yorker and the New York Times, which were delivered to their home, had seen a recipe in a magazine in a store and bought it. The cover of Women's Day caught Hope's attention: Princess Grace and Princess Caroline were smiling at her.
"I read the entire interview and it probably had an enormous impact on me because every time anybody asked me: Who do you look up to? I would say Princess Caroline of Monaco! And then they would be like: where is that?"
From Salt Lake City the family moved to Peru. Her dad was an engineer at the largest copper mine in the world, and her mother taught at the local school, but she but always made sure the children – Hope has a younger brother- were entertained at home. "Arts and crafts, our house was always full of art."
And when they finally moved to Connecticut when Hope was nine, it was definitely like coming home. Season tickets to the opera, symphony and ballet, plus regular visits to NY museums. "We were your typical WASP family, food was not very important, my mum would cut up a carrot and put it in icy water and that was our snack. But she knew about all the art exhibitions and concerts and who played where and what was going on."
"We would go to a museum and we had to stop in front of every painting, read the description next to it, and then my mother would ask: 'OK. What do you see? And what do you think about that?'"
The family travelled a lot and everywhere they visited they found museums and paintings. "Growing up I obviously had an attraction for all things foreign and I have always had that affinity for the 'different'."
Hope graduated from the University of Connecticut with a French and Business double major. She spent her junior year abroad in Rouen, famously known for the Rouen Cathedral series painted in the 1890s by French impressionist Claude Monet.
"I finished my junior year, got on a train, travelled to Nice, found cheap accommodation, and every day I took day trips to Monaco, Saint Tropez, Menton, Eze; that was my first time in the South of France. I was 21."
She didn't know then that she would be returning for good and with the best job on earth. After graduating she worked for a French bank and later the dairy company that produces Le Président camembert; but after she married Leonardo Castellett, the couple moved to Geneva where Leo worked for American Express.
"He was offered a job in Monaco – and I would have loved to come with him then but he wasn't very keen. We returned to New York and again I was looking for a job. In the 80s if you didn't have a job in Manhattan you didn't exist. People wouldn't say: 'Hello, what's your name? They would say Hello, what do you do?'"
And it was the famous Marisa del Re, her Italian mother-in-law, who said: "You come and work for me!"
"And I absolutely loved it."
Marisa del Re founded and directed the well-respected "Marisa del Re Gallery" in the Fuller Building on 57th street in New York City, starting in 1969.
Hope was involved in its sales audits, oversaw the opening of exhibitions and the hanging of paintings, organised vernissages and art fairs.
"Marisa had always wanted to do a monumental sculpture exhibition, which if you put yourself back in the 80s wasn't done anywhere. She had done an exhibition of maquettes of sculptures in the gallery, but needed the perfect space for the real thing. Marisa also had a villa in Beaulieu, which led her to present the idea to Princess Caroline of Monaco. Princess Caroline gave her blessing, as well as the Casino gardens to hold the exhibition."
"The first exhibition was held in 1987. Vogue magazine came to do a shooting. Monaco dared to say yes! And it was amazing with a lot of noise and acclaim. Prince Rainier III attended, and he said: 'You need to organise one for next year'; but Marisa said, 'Monseigneur, it's a big undertaking – can we make it a biennale?' And that's how the Biennale de Sculptures exhibition in Monaco was born. "
It was the third edition in 1991 when Hope finally moved to Monaco for her dream job and never left.
"I had a desk in the Centre de Presse and then in the Office de Tourisme. I met all the people; the journalists, the SBM heads of departments, other governmental organizations, and art shippers and installers – an amazingly interesting group of people. My phone was in the drawer of my desk (I bought my fist cell phone for the César exhibition in 1994) and when I came in, I would plug the phone in and start working, sometimes all night long sending faxes, organising shipping with the USA."
"I didn't need to learn the language, in fact for the first three years working in Monaco I didn't speak a word of English. But I had to understand many things. The way of life. When I saw the crane that was installing a sculpture suddenly stop at 11:30, I ran out of the office shouting 'what happened?' And the men told me: 'Nothing, we are having lunch'."
"Lunch? What? This was my first year and then I realised I had to go with the system – I didn't come here to impose an American work style on them! And you know what? It always got done and it always got done well and I learned how to fit in and work their way."
"I learned to sit down and have a coffee with the technical staff – talk about their families and how they were. All these niceties that Americans usually try to get away from because they are so busy: "You have to get to the point! Do not waste time!"
"I have learned that what we would call wasting time would actually be LIFE. What would be the point of not having a coffee and not asking how my grandmother is in Minnesota? I became friends with all the installers and technical support staff, I learned all about their lives, and this was actually really interesting – these people travel around the world with their companies and have some amazing stories to tell… It was great to be in close touch with the Palace, sure, this was a huge privilege. But the privilege was actually getting to know all the people – altogether we create a community."
Hope has now spent exactly half of her life in the Principality. She has seen enormous changes, expansion, growth. She would not want to live anywhere else. "In fact"' she tells me, "I experience more democracy here than in the USA today." The only thing that really worries her is whether working people living in Monaco can keep up with the wealthier and wealthier residents?
"The big question here is – can you have a community of only billionaires? In my job I have learned that everybody is important and everybody has a piece to add to the story."
Even after her divorce, Hope still worked closely with Marisa, who famously said: "I am not divorced from Hope!"
After marrying Jeremy (Swales) and having three children within three years, Hope is now slowly getting back to the art world. In fact, she has never left, only altered her job description. For some time now she has been working very closely with new owners of monumental properties on the Riviera: villas, chateaux.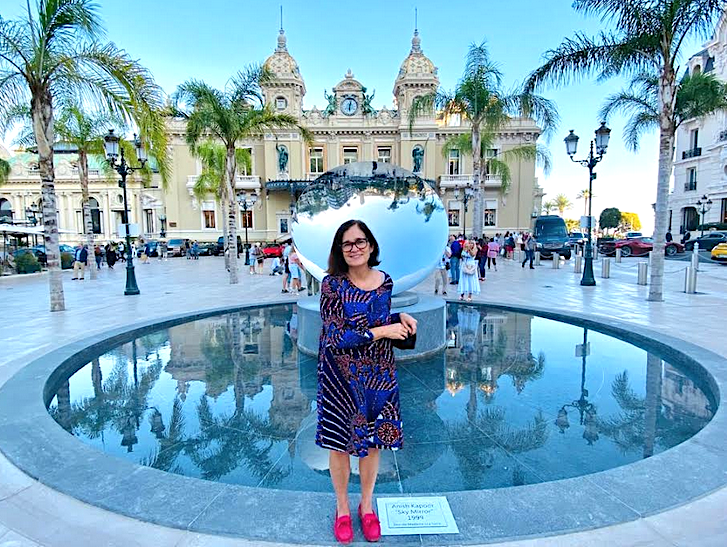 She learned an enormous amount on her first job, where, thankfully, she was paid by the hour because "the owners took two years before they chose which stone they wanted to use for their entrance. We had to drive to Carrara to look at the marble and I learned about every single marble on the face of the earth because they had to see all of them before they made their decision."
Hope had "the most amazing lockdown" which she spent in Aix-en-Provence decorating a chateau. With a team of eight people she was responsible for its total transformation and she was never bored. Every Sunday she would drive to Monaco to see her family and to attend the church service at St. Paul's Church.
For three years she has presided over the Church Council. She says it is not at all her personality. But "I have grown into the role. And it's true. The more you give the more you receive. If you put effort into something, what comes back to you, you can't really measure. And you can't predict either. And what are we all looking for? Community. And for someone like me who is not on the waiting list for the next handbag, it's the community based around the church that makes me happy. It brings in all kinds. We are all really different. And this is what I like."