On November 17, Artcurial will disperse, in partnership with Christie's, the entire Parisian collection of Didier Ludot & Felix Farrington.
This collection illustrates an eclectic and exuberant taste, and includes a François-Xavier Lalanne (1927-2008) blue enamel cast iron rhinoceros, date and numbering on a cartridge under the base "94/150" Estimate: 30,000 – 50,000 euros, a portrait of the young Louis XVII by Guy de Rougemont (6,000 – 8,000 euros), and a bust of Igor Mitoraj (6,000 – 8,000 euros).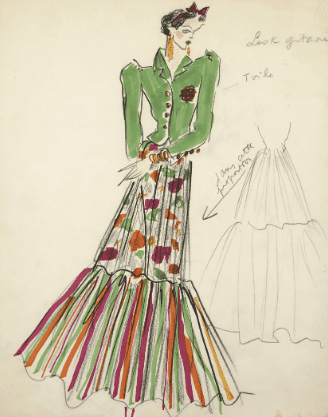 Yves Saint-Laurent "Gypsy look"
The world of fashion is represented with drawings by Yves Saint-Laurent "Gypsy look" pencil and marker 41 x 32.5cm Estimate: €3,000 – 5,000, sketches by Christian Bérard and showcase projects by Janine Janet.
Among the very varied lots art part of the wedding service of the Duke and Duchess of Windsor (1,000 – 2,000 euros), and a portrait of Baron Alexis de Rédé by Mac Avoy from the Hôtel Lambert (400 – 600 euros).
While most of the collection started out in Paris, much if it made its way to the South of France when the collectors moved base.
MORE INFORMATION: https://www.artcurial.com/en/sale-4295-didier-ludot-felix-farrington-collection