Primavera Art Monaco members visited another jewel on the French Riviera, the Belle Epoque Villa les Camelias which became a private museum in 2014 making full use of the family archives.
Only two minutes away by walking distance from the Cap d'Ail train station, this makes for an interesting outing for those who are interested in architecture but also social history and art in the close vicinity of Monaco.
Cap d'Ail was established as a commune independent of La Turbie in 1908 and provided housing for labourers on the major construction sites in Monaco as well as a respite for the tourists who would help generate a productive local economy: shops, artisans, studios, hotels, restaurants and bars, just to mention a few.
Alongside the local population with its strong values, the international aristocracy spent their winters here, followed by numerous personalities from the world of art and literature, including André Malraux, who stayed in Villa les Camélias, as well as Colette, Greta Garbo, Josephine Baker and others. One of them, Sir Winston Churchill, would even become an honorary Mayor of Cap d'Ail, in 1958.
Villa les Camélias was built in around 1905 by a Parisian couple, and only nine years later it was sold off to the Director of the Variétés in Paris, Fernand Samuel. After a succession of owners, in 1952 it became the property of a family that has maintained it ever since.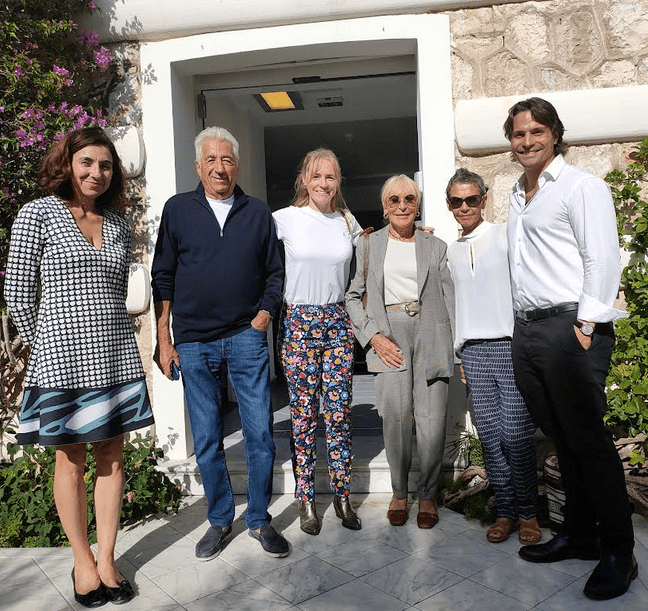 From left to right: Hélène Bonafous, the curator of the museum, with some of the visiting members of Primavera Art Monaco: David Morris, Holly Hayward, Suzette Morris, Carolyn Wiggs and Sylvain Fresia. Photo: Martina Brodie
On the garden level, the Villa houses items and countless photographs dating from the end of the 19th century to the 1950s that immortalise the lives of Cap d'Ail residents: their pastimes, celebrations and scenes from everyday lives.
The upper floors present an exceptional collection of paintings, drawings and enamels by Basque painter Ramiro Arrue.
The intimate, shaded garden has been left to grow more or less wild. You can spot mature olive trees next to the hundred-year-old carobs, mimosas, a young Ginkgo biloba, Judas trees, bougainvilleas, camellias and fragrant jasmine, just to name a few.
Villa Les Camélias is not only a museum but also the centre of a rich cultural life, hosting events, readings and workshops.
Primavera Art Monaco is a members' group with a curated programme of art and cultural visits in English throughout the year in Monaco and the surrounding regions. All the visits have been researched by artist and historian Holly Hayward and look at the different factors that make up the art world and how they interconnect.
For more info please contact Holly at info@hollyhayward.co.uk