Nawel Nourid, who is doing an end-of-studies internship at the Permanent Mission of Monaco to the United Nations, addressed the Sixth Committee of the General Assembly in charge of legal matters.
The Principality, which is party to the Geneva Conventions of 1949 and its Protocols, called on all States to respect them without reservation.
"No one can deny that respect of human dignity is a universal fundamental right and that violence against civilian populations is unacceptable," Ms Nourid said.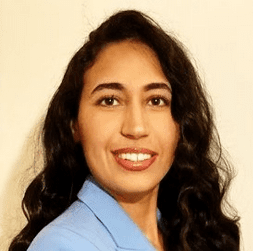 Nawel Nourid
International humanitarian law states that civilians and in particular the most vulnerable people (women, children, people with disabilities) must be protected against the effects of violence and wars, regardless of the party to the conflict to which they belong and regardless of the reasons given to justify the conflict.
Nawel Nourid also spoke of the humanitarian activities of the Cross Monegasque Red since its creation in 1948.
ORIGINAL SOURCE: Monaco Government Press Service
MAIN IMAGE: A woman carries her cat as she walks past buildings that were destroyed by Russian shelling, amid Russia's invasion of Ukraine in Borodyanka, in the Kyiv region, Ukraine, April 5, 2022. REUTERS/Zohra Bensemra