The first cruise of the Evrima, a seaborne version of the Ritz-Carlton hotel chain, set out from Barcelona on Saturday, heading to Nice.
Ports of call include Saint Tropez and Antibes, but not Monaco.
The ship is carrying 298 passengers paying at least 5,500 euros a week and is the first of three vessels planned by the hotel operator.
The ship's departure was delayed by three years die to the pandemic and supply chain issues.
Interestingly, Ritz-Carlton says there has been huge demand for berths on winter cruises in the Med and Caribbean.
"This unique combination of yachting and cruising will usher in a new way of luxury travel for guests seeking to discover the world in a relaxed, casually elegant and comfortable atmosphere with the highest level of personalised service," the company said.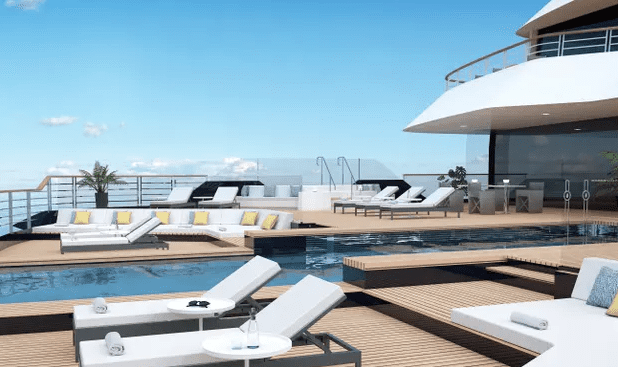 An artist's impression of the Evrima's main aft pool deck. Features, plans and specifications are subject to change without notice.
Despite the small number of passengers by cruise standards, the ship offers four swimming pools, a champagne bar, walk-in humidor, nightclub and seven bars in total.
Hervé Humler, Ritz-Carlton's president and chief operating officer, told the press that the yachts had been designed to have a "distinctive personality" and "be true standouts in some of the most glamorous ports around the world."
PHOTOS: Ritz Carlton Yacht Collection