As part of the commemorations of the centenary of the death of Prince Albert I, Prince Albert II and Princess Charlene visited Oslo on Wednesday, June 22, to inaugurate the exhibition "Sailing the Sea of Science, Scientist and explorer. Prince Albert I and the early Norwegian exploration of Svalbard."
Crown Prince Haakon of Norway welcomed the Prince and Princess to the Fram Museum, where the couple toured the exhibits with Prince Jacques and Princess Gabriella.
This exhibition has been organised with the help of the Archives of the Prince's Palace, the Audiovisual Institute of Monaco and the Oceanographic Museum of Monaco, and retraces the scientific campaigns of Prince Albert I in Spitsbergen, main island of Svalbard, in 1898, 1899, 1906 and 1907.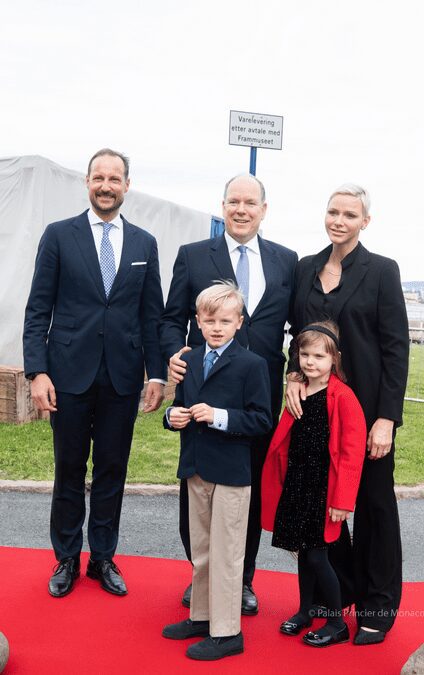 Crown Prince Haakon of Norway and the Princely Family
Earlier in the day, Prince Albert II and Princess Charlene were guests of King Harald V and Queen Sonja of Norway for lunch at their private residence, Bygdø Kongsgaard.
On Thursday June 23, in Longyearbyen, the capital of Spitsbergen, HSH Prince Albert II unveiled a bronze bust of Prince Albert I donated to the Norwegian Polar Institute in Longyearbyen in memory of his many Arctic expeditions and his links with Norwegian explorers.
MAIN PHOTO: The Princely Family with the royal family of Norway © Photos: Eric Mathon / Prince's Palace – Sven Gj Gjeruldsen/The Royal Court of Norway