As Monaco becomes a hub for new fashion brands and fresh ideas, Saturday night at the Pacific will be a celebration of one of them, Maison Noir.
NEWS.MC had the pleasure of meeting and interviewing its Monegasque designer and founder, Yannick Barrale.
Where did the idea for Maison Noir originally come from?
I started to think about the concept of opening a shop in Monaco in 2002. But first I was a designer, I graduated in Paris in 1996, I worked in Paris and London until 2002 and in 2002 I decided to open a shop in Monaco for my brand.
However, I was shy at the time, and didn't want a shop just for my own brand, so I decided to ask the best brands that I knew at the time to participate in my concept. I opened the shop in 2003 and I was working with Raf Simons, Vivienne Westwood and other big brands.
That went well until 2014, when construction started in the area and people began to buy more online. So in 2017, we decided to flip out the concept and come back to the first idea, which was launching my own brand. As a designer it was more relevant.
And who came up with the name of the brand?
My wife Olga and I were searching for a name and she said: "Baby you're always dressed in black, why don't you call it Maison Noir". So she found the name, and I found it very cool.
We began by introducing a line of t-shirts in the multi-brand store I used to have, and when I saw that the shirts were working quite well I decided to completely flip the concept, change the name of the shop, change everything and become my own producer.
I started to produce more and more, and from 2017 we changed the name and the front of the shop. In 2018 we changed the interior. Since then I have been working on different products and ideas. We are growing slowly but surely. Is Maison Noir Monaco's own fashion brand?
Maison Noir is a Monegasque brand made in Monaco by a Monegasque designer, selling only in Monaco. Sometimes when tourists come in I say "if you really want to have a Monegasque product, you can't get more Monaco than this. If you get a Monaco mug then it is probably made in China.
Are all your products produced here in the shop?
I began producing here, but now I have too much demand, so we work with a factory in Latvia where my wife is from. Simply because her mother used to have a shop and order from factories, so we had an easy connection there. Our more complicated products such as jackets and coats are made in Latvia, but the t-shirts and sweatshirts are made in Monaco.
What would you say is the primary style of the brand?
The motif of the brand is the colour black, which works with the concepts of death and simplicity. Black is always chic.
Have you dressed any big names that have come to the shop?
The last big star that we had was Johnny Depp, when he came for the Ocean Gala. We have also worked with famous people in sport like Usain Bolt and New Zealand's All Blacks.
Have you got any other projects up your sleeve?
I have a project with a bike brand, creating an 'off-road' Maison Noir collection as part of the collaboration. The bike itself is a full carbon black-on-black bike made in Italy, we will receive the bike in June for a launch event that month.
I also have an NFT project, working on a Bored Ape brand from Monaco. We have decided to launch 'Monaco Ape Yacht Club' during the Grand Prix, and it will be launched at the fashion show that we are doing with Aldo Coppola at the Pacific Restaurant on May 28.
It's going to be a Maison Noir fashion show with a first peak at the NFT brand.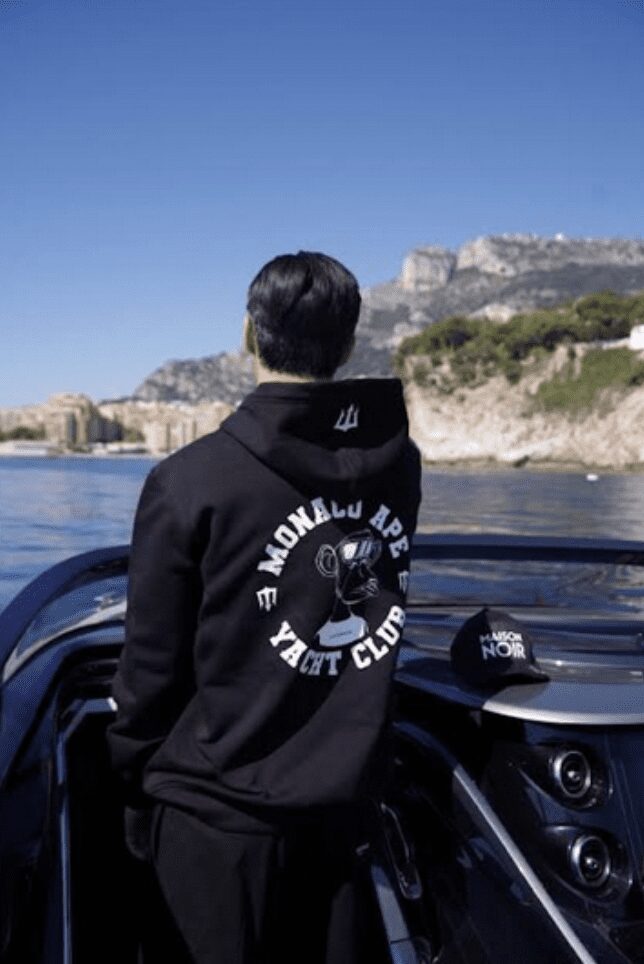 Can we expect to see any other brands at the fashion show?
We will display a brand that I host, actually. It is a Ukrainian brand that we are hosting because they had to leave their country because of war. They arrived in Nice, met a mutual friend and we got connected like this.\
The brand creates high quality leather handbags. I hope that through hosting their brand it will help them to rebuild.
For me I sympathise with them because, like myself, they have three kids and a mother with them and they had to leave everything behind in their country.
Are there any primary inspirations for your designs?
It has been the same since I was working in fashion in 1996. Music is my main inspiration, music and movies I think are the two main sources of inspiration.
Sometimes I develop details that I discover in music and movies, and that's why I'm using a lot of music prints, sentences, and patches and spikes inspired by the punk scene.
Music is my main inspiration. though. Music is a social movement that gives you style. When hip-hop was a thing in '96 you saw baggy jeans, for example.
If you had to pick one, what would be the genre that inspires you the most?
"That's very difficult to answer. I was born in 1975 so I'm from the hip-hop and electronic generation, this is the music of my generation. But I can find inspiration in all genres, even in country music."
Are you working with any musical artists at the moment?
I am working with several artists, local and international djs such as dj Flavio.
I am currently working with a local producer, writer and rapper from Monaco. I work very closely with him because I think that he has a lot of potential, I dress him in many of his videos and we even shot some of his videos here in the studio. The artist's name is BDS – Battling D Siki, he is going to launch his new album very soon, so we are working very hard together.
https://www.youtube.com/watch?v=p480-8nT6Tk I work with all these artists because I like what they do and they like the brand.
Are there any ambassadors of Maison Noir?
Our ambassador is world champion free driver Pierre Frolla. We are working with a lot of materials that are made out of recycled plastic. All our hoodies and sweatpants are made of 20 percent recycled plastic, so each hoodie contains the equivalent of six plastic bottles.
The factory that is making the fabric in Portugal already recycled one and a half million plastic bottles just in 2021.
I'm very close to the concept of recycling, as is Pierre who is all about the sea. Plastic is a problem in the sea.
Maison Noir is presenting a fashion show with Aldo Coppola at the Pacific restaurant on the evening of Saturday, May 28. The show will be followed by an after party with a live DJ. Reserve tickets here.
Discover more about Maison Noir on maisonnoirmonaco.com.