One of the Orthodox Church's most holy and ancient icons visited Monaco on Thursday, March 31, an occasion that had been planned for several weeks.
On the eve of its visit St. Elena's Parish issued a statement: "At the parish of St. Elena, the Queen of Heaven will visit us in the form of the miraculous Kursk-Root icon! This greatest relic, revealed itself in the 13th century and has radiated divine grace for more than 700 years: it heals the sick, reconciles the fighting and shows many graces and gifts to all who pray with faith before it.
"This image was revered by the Tsars and Commander-General Kutuzov of the Russian Empire. In Ukraine and Russia, hundreds of thousands of people wait for seven or eight hours to worship this icon, only to have five seconds before it.
"During this very difficult period in Ukraine, we invite all Christians in Monaco to unite and take advantage of this wonderful opportunity to pray in front of and touch this Great Relic."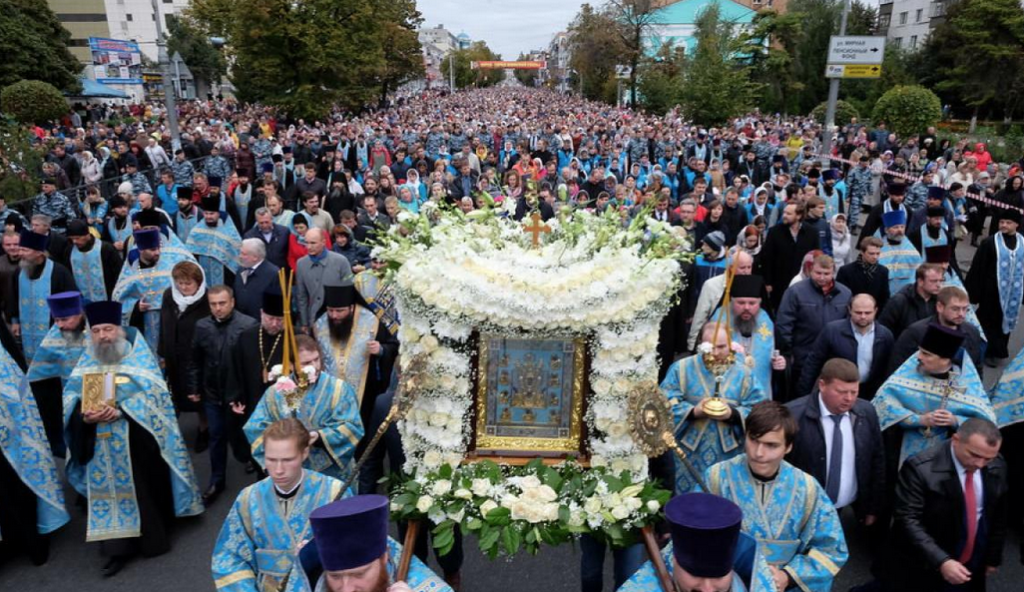 The Kursk-Root icon on a visit to Ukraine
Alexander Hagerty, President of the St. Elena Parish in Monaco, said that the icon's visit had been planned two months ago. He added that there are about 10,000 Orthodox residents in Monaco and the surrounding communities.
Earlier in the day Monseigneur Irenei, the Orthodox Church bishop based in London, met Archbishop David of Monaco. The bishop also met members of the Government, where the place occupied by the Russian Orthodox Church in relation to the conflict in Ukraine and the significance of the transport of the icon to Monaco in these very difficult times were discussed. The talks were described as positive.
MAIN PHOTO: Monseigneur Irenei carries the icon into Saint Paul's Church where a special ceremony was held to celebrate the Icon's visit
BELOW: Waiting for the Icon