March 8 is the global date for women's rights. It is also an opportunity to take stock of the issue of gender equality in the private sector, CMB Monaco says. Professional equality between men and women is considered a fundamental right in the European Union.
This annual date allows CMB Monaco to acknowledge the contribution of women to the success of the company, as they represent 49 percent of employees.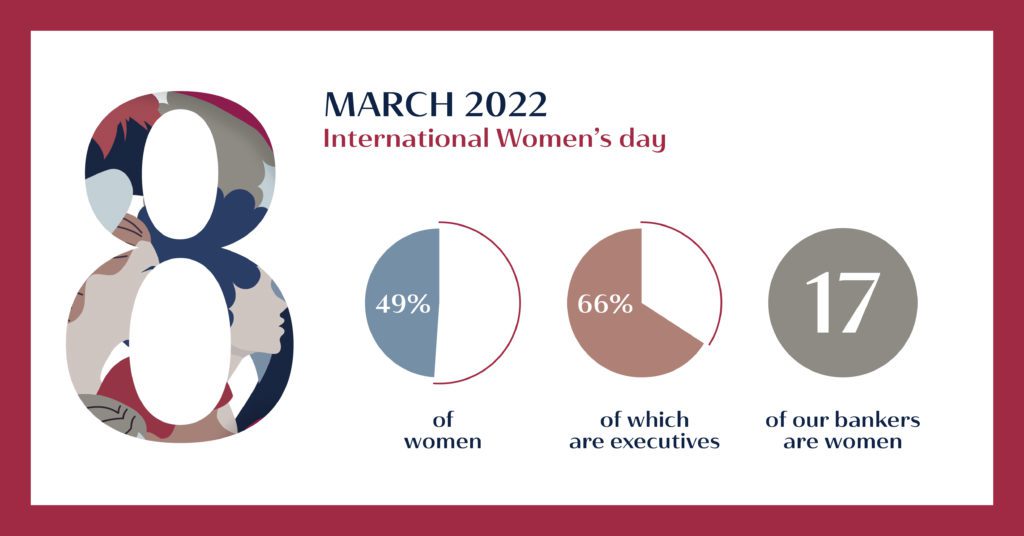 This represents almost perfect parity and is more the exception than the rule in the banking sector. The sector has long been male-dominated. It is a subject that is now much higher on the agenda of management bodies, no doubt partly under the impetus of strong figures such as Christine Lagarde (President of the European Central Bank) who, since her nomination in 2019, has constantly campaigned for greater gender diversity in the sector.
Sophie Saurini, Head of Front Office – a position that is very often held by men – says: "We have 17 female bankers. I also see this as a commercial argument: a client may be more comfortable with a woman and it is important to have a pool of competent female bankers if this is the case. So it's a business imperative, but also a necessity in the 'war for talent' that drives us to recruit the best – regardless of gender."
Nathalie Aresi, Head of Human Resources, adds: "We also need to look at the granularity: what positions do women hold? At CMB Monaco 66 percent of women are executives (+2% compared to last year), which is a strong indicator. Our vocation is to support women and men in their careers, according to their respective needs."
PHOTO: Sophie Saurini