UPDATED 16:43, February 28:
At the request of the Ukrainian government, the French president, Emmanuel Macron, has spoken to his Russian counterpart Vladimir Putin, the Elysée palace has said: The president reiterated the international community's demand that [Russia] halt its offensive against Ukraine, and reaffirmed the necessity of immediately establishing a ceasefire, the Guardian reports.
Russian forces appear to have abandoned a plan by ground forces to overwhelm Ukraine's second city, Kharkiv, having been largely repulsed by Ukrainian regulars and volunteers. A barrage of Grad rockets from outside the city killed dozens of residents on Monday morning, the Interior Ministry in Kyiv said.
"The BM-21 Grad is a multiple launch rocket system used for "area denial", dropping cluster bombs on a concentrated area,' the expert told the UK's Daily Mail. "It's mainly used on enemy troops before an offensive. Used against civilians, it's not only a war crime, but has only one purpose – to spread terror and alarm among the civilian population."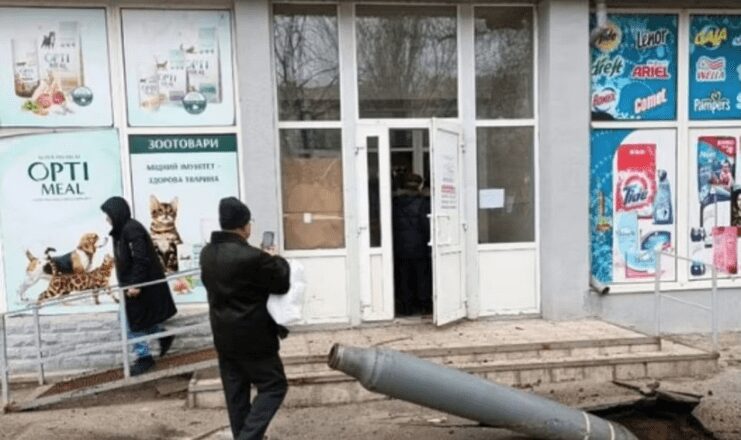 Residents of Kharkiv carry on shopping with an unexploded Russian rocket for company
Meanwhile, a contingent of 400 Wagner Group Russian mercenaries has been tasked with the assassination of President Zelensky and other top Ukrainian officials, according to the Times of London. More than 2,000 Wagner operatives entered Ukraine from Belarus in January, but most of them were sent to the pro-Russian eastern enclaves of Donetsk and Luhansk.
According to reports, the mercenaries were offered bonuses if successful.
French Foreign Minister Jean-Yves Le Drian said that France will keep its embassy in Kyiv open with a much-reduced staff and advised French citizens that roads out of the capital to the south of the city, while not totally safe, could offer the opportunity to leave, French daily le Figaro reported. Other countries moved their embassies out of Kyiv two weeks ago.
Meanwhile, Putin has called in a number of players in the Russian economy to discuss the rapidly deteriorating economy situation following crippling Western sanctions that saw the rouble drop in value by 25 percent on Monday.
Peace talks took place between Russian and Ukrainian delegations in the south of Belarus before being adjourned.
PHOTO: (main) Putin discusses economy at the Kremlin Sputnik
RELATED ARTICLE: https://news.mc/2021/12/26/russian-mercenaries-arrive-in-mali-to-help/