"I am a full-time Ukrainian citizen even if I haven't lived in Ukraine for 20 years,"' says Zoia Skoropadenko when we met for cappuccino at Casa del Caffe.
"I hope that Ukrainians will be smart enough to not start something stupid. I think time will clear up everything. And it's better to wait it out. The media and social media are making this very stressful and stressed people are dangerous. I feel very sorry for my country because we are a wonderful country with wonderful people and from what I read and hear it's obvious something horrible is going to happen to Ukraine. I have many friends there and ask them, worried, 'guys how are you there?' My friends tell me: 'unless the bombs are falling we are fine, we are going to work, everything seems normal.' "

"I actually stopped reading the papers. I occasionally buy Le Figaro – I remove the major part and read only the culture and social affairs. Media in this huge geopolitical thing are evil. The best thing media can do right now is write locally about something nice. I particularly like Monaco Matin about this – writing locally."

"Saying that it is very clear that Ukraine is a box full of explosives and somebody would very much like to light a cigarette. I just hope very much that no-one is that stupid."

More of a wishful thinking maybe. We recorded this interview on Wednesday February 9 and things look even scarier a week later – at least according to the world's leading media.

Zoia Skoropadenko is an artist, an art collector, a business woman and a mother hen to artists in Monaco. "There are Monegasque artists and artists who live in Monaco – like me – residents, and nobody really knows about us because newspapers and magazines are not really writing about us."

In 2013, when the world wasn't familiar with cryptocurrencies Zoia started selling her art for Bitcoin, when the world wasn't that familiar with cryptocurrencies. "I have literally accepted every currency and a couple of people were paying me with Bitcoin and later when it rose to 42,000 euros per Bitcoin I sold it and received a substantial sum of money. I am using this to promote myself and my friends."

Zoia is also collecting art by known names. "I am a famous cheap collector so I am bidding at the auctions and buying great art pieces by Toulouse, Lautrec, Bonnard, Andy Warhol on low budget but it looks like I am popular because Sotheby's and Christie's are inviting me to their parties and cocktails  where I look for collectors who could help us but who I find there are girls looking for husbands and poor artists looking for collectors," laughs Zoia.

Zoia is 42 and grew up in a communist country so I expected the same upbringing as my own, but no. Zoia's childhood was even more unusual because she never went to school. Only once a year, on the first of September, to take the class photo with the schoolmates that would never see her again until the next September. Now, it is important to note here that this is an unprecedented situation. Everyone in a communist country had to go to school, as homeschooling was not allowed. How else would the regime brainwash its offspring? Zoia's grandfather was a double hero of the Soviet Union and not only had special privileges and access to goods that other people couldn't obtain easily, like a fridge for example, he also had contacts that secured Zoia was "safe" at home. He even made sure Zoia had her red Pioneer scarf (emblem of Communist youth) brought to her as she pointed out one day, seeing the Pioneers on television, that she was missing out.

"You were like a phantom child to us", said one of her schoolmates years later over Facebook: "We knew you existed but never knew why you never came to school!"

Zoia was born with a rare heart condition that doesn't allow her to sit for a long time in one place. After passing out a couple of times as a little girl, her mother, a music professor, decided she would stay at home and be educated privately. And what an education it was. Zoia lived in a home with her mum, her grandparents and great-grandmother who doted on her great grandchild with all her heart. 

"My great grandmother actually emigrated from the USA back to the Soviet Union. How stupid! She was part of the Czar's family. And she spoke 12 languages and studied in St Petersburg where the Czar's family members went."

Zoia's great-grandmother made sure Zoia learned languages – she speaks eight fluently but could probably lightly converse in ten more. She taught Zoia the basics of etiquette, especially in using proper cutlery when dining with Royals.
Zoia was able to put this to good use when she dined with the late Prince Philip, who was a Patron of the Eccentric Club, founded by Oscar Wilde, Zoia is still a member.
She also gave her advice: "if you ever have the possibility of getting out of this country never come back! "

Zoia did leave the country, albeit involuntarily. She was kicked out on suspicion that she was a CIA agent. The evidence? She owned a second-hand laptop and spoke far too many languages, especially English, which was then very rare. The irony was that the accuser was a former KGB agent, one of her professors at University – one school Zoia eventually did attend but was not allowed to finish despite the fact that she established the students news agency and was also editor-in-chief of the university newspaper.

When Apple Corporation gave Zoia's University in Lviv three old Apple computers, Zoia was the one using them. Because of her good English she was the first and for a long time only person to use the University's internet.

After she had to leave Ukraine – in the late nineties, she hitchhiked around Europe, often sleeping homeless and eventually ending up in Monaco with the job that secured her a residency permit. She worked mostly as a translator with media companies, yacht brokers "helping them to sell to enterprising East Europeans who had got rich quick and also helping Interpol arrest and interrogate enterprising East Europeans who were hoping to get rich quick."

An artist in heart, Zoia was encouraged by a friend to exhibit her paintings, which she did, almost exactly 20 years ago: "I did a series called Traffic Jam in Monaco which depicted insects as cars. I was very proud and when I needed to price the paintings – not really familiar with the newly introduced euro currency in the Principality, I just put an 800 euros price tag – hugely inflated of course – but a Maltese tourist bought my painting! I could have grown wings at that moment. I thought If I can sell a painting for 800 euros every day I will have a wonderful life! But I didn't sell another painting for the next seven years despite the fact that I was exhibiting every two months. I produced a lot, visited 300 galleries in Paris and elsewhere…"

Working with other artists in Monaco as their assistant – free of charge but gaining invaluable experience, Zoia was quite literally starving. She often wandered to the port at the end of a long day where local fishermen would give her some fish to eat. One morning, a kind fisherman gave her a bag of octopus for lunch.
And Zoia had an idea which eventually completely changed her life. She painted the octopus, creating the Torso series – large-scale mixed media paintings on canvas. "They are the Impressionistic New Renaissance Art Pieces," she says.
"Like artists from Old Renaissance times, I revive the beauty of antique art, reconsider and recreate it in a modern way with a modern medium. As I didn't want my audience to see seafood in the paintings, I decided to follow my favourite impressionist Monet: to capture the essence of the subject, rather than its details."

Four years later she had her first show of Torso in London, where an art critic mentioned Zoia Skoropadenko in Creative Review magazine as the Revelation of the Year. After this Zoia became an artist requested to exhibit around the globe. And started to sell – any currency accepted, even bitcoin.

In 2010 she opened her personal exhibition space in Palais de La Scala in Monaco called La Vitrine. She promotes her art and the art of her friends, curated according to the themes. The latest one is called Animals and you can see it in Palais de La Scala literally in the vitrine. "It's a portal to the ancient and contemporary art of Monaco," says Zoia, "where people here have an opportunity to not only look into, discover but also buy the rare and fragile art of Monaco."

In 2011 the Monaco government granted her the official status of an Artist-Painter of Monaco.

In 2013 the Torso series was hung in the Council of Europe in Strasbourg. Two years later this exhibition had great success in London, Paris and in Brussels.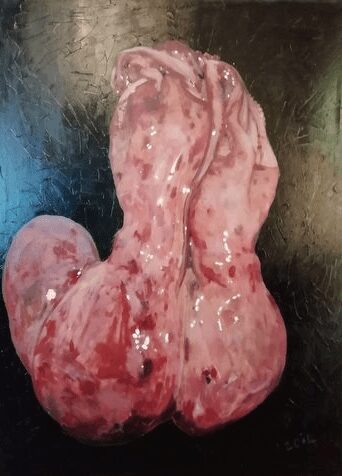 One of the paintings in the Torso series

Zoia continues to work on pop-up shows around the world – the next one will be in Paris in March. Under the name Zoia's Circle she relentlessly supports and promotes Monaco artists everywhere she goes.

As expected, she became a star in her native Ukraine and she often gives interviews. The reaction from people in her own town she gets is "Skoropadenko? I know this name! Your grandfather helped my family to get a fridge!"

"So you know," Zoia says with a smile: "I may have my moments of fame, but who is the hero here?"