Each week we get to know Monaco a little better through the eyes of its residents. This week the young couple Wout Poels and Alice Ward gave us fantastic A's to our Q's.
Wout has lived in Monaco five years and works as a professional cyclist. Alice joined him in Monaco two years ago. They live in Saint-Roman with their Maltipoo, Ralphy (@ralphy.maltipoels / @wout.poels).
---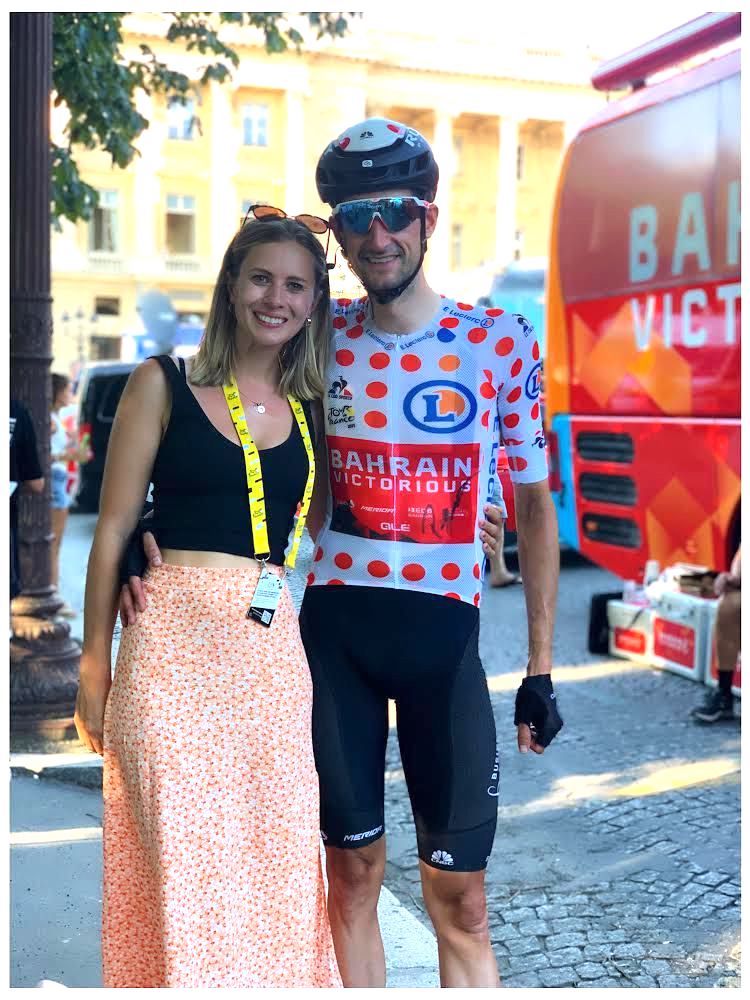 1. We get our coffee and croissant here
Having spent too much time enjoying British breakfasts and brunches, our favourite breakfast spot is Cantinetta Antinori. You can get poached eggs and avocado, omelettes and pancakes. They also serve croissants…
2. Our favourite lunch spot
Avenue 31. We are creatures of habit and location – Avenue is a short walk for us and always satisfies! The lunch is really good value and the staff are great.
3. Best Friday night aperitif
Duke. This is more an answer from Alice, with Wout's training and racing an aperitif is tricky to fit in…! She's been waiting patiently for the re-opening post COVID and loves an evening here particularly when there is live music on.
4. Annual event we never miss
We are sports people through and through. The winning vote (Alice's decision..) is for the Global Champions Show Jumping each July. There's free access and honestly the most incredible background for any equestrian event worldwide.
5. Favourite time of year in the Principality
It's got to be Christmas. The dark evenings, Christmas lights and pop up events like the Christmas markets or drinks stand by the Hermitage make it feel really cosy.
6. My best Monaco workout
On the bike! Wout's favourite ride is to head out towards Sospel, climb up Col de Braus, come back through Peille and then head for home. A complete workout with a view!
7. Where we go/what we do for "me time"
We like to walk our little dog, Ralphy, around the Jardins de Saint-Martin on the Rock. This a lovely park and you almost feel you've escaped the city with no traffic noise.
8. Our go to shop for last minute gifts
Jeff de Bruges Chocolatier, inside the Centre Commerciale. It's ideal for a last minute gift or thank you.
9. A hidden gem we're willing to share
The "secret beach". If you head round the back of the Monte Carlo Beach Club, through the car park and towards the entrance of the hotel. There's a set of stairs on the right that will take you down underneath the hotel and out onto a small plateau and beach, accessible to the public.
10. Best day trip out of town
Close to home we like to go to Eze and the Grand-Corniche parks that we regularly walk in with Ralphy. From the Hotel Hermitage or the Fort. It's only a short drive but allows you to totally escape the city. Further away, we love to go to Lac Saint Cassien in the summer. It's about an hour and the perfect place to swim and cool off. There are restaurants and pedalo hire available, but you can also just grab a quiet spot on your own to enjoy.
11. The one thing we would change about Monaco if we could
Scooters! Sorry but they are everywhere and all over the road!
12. The Shout Out (favourite hairdresser, mechanic, dog walker etc.)
La Concierge – she covers sports massage, food prep and anything else an athlete could need! Instagram @la.conciergeriemc
If you would like to share your answers to the My Monaco Questionnaire, please contact siri@news.mc
Featured image: Ralphy at the secret beach
Second image: Wout Poels and Alice Ward at the finish of the 2021 Tour de France