Tuesday 13
Monaco Art Week
From Thursday, July 13, until July 18 a colourful mix of galleries and auction houses, spread across 13 sites across the Principality will join forces to present a series of exhibitions and artistic events at their respective venues. A forum for synergies and exchanges, these cultural meetings are an opportunity to showcase the artistic and creative talents of Monaco. Have a look at the map of participating exhibitors below.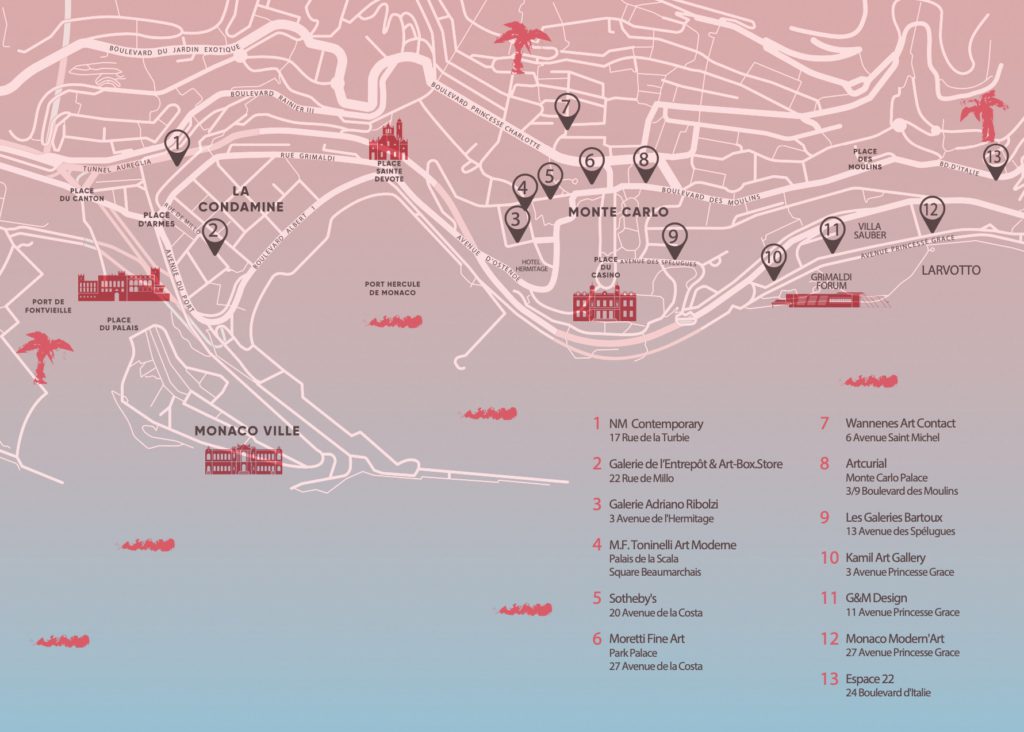 Specialists in ancient, modern and contemporary art, the professionals taking part in Monaco Art Week will be working hand in hand, to enable members of the public to visit alone or in groups and discover the different periods of art history.
To discover more, click here.
---
Chansons Français at the Fort Antoine Theatre
The MonacoBrass ensemble, made up of the Monte-Carlo Philharmonic Orchestra's brass and percussion soloists, will be joined on the stage of the Fort Antoine Theatre by singer Anne Carrère and accordionist Guy Giuliano.
This will be the first occasion that these magnificent musicians will come together in concert, a special event that will take visitors through the last century of French music, from Charles Trenet to Edith Piaf and beyond!
The concert will begin at 21:30 with free entry, just make sure to reserve your tickets at the Princess Grace Theatre beforehand.To discover more, click here.
---
Thursday 15
artmonte-carlo
The artmonte-carlo salon is centred on the Grimaldi Forum, starting at noon on Thursday, July 15. and continuing until 18:00 on Saturday, July 17.
"The Salon d'Art will host a prestigious selection of international galleries of modern and contemporary art presented in parallel with a large retrospective dedicated to Alberto Giacometti," says the event's director, Thomas Hug.
Tickets will cost 20 euros per person. To discover more, click here.
---
L'Été Danse!
For this 2021 edition of 'L'Été Danse!', Les Ballets de Monte-Carlo are offering two series of shows. The first of which will be held in the Salle Prince Pierre of the Grimaldi Forum on Thursday, July 15, 16 and 17.
This show will combine two creations by two creators; sunagu by Mimoza Koike and Le Temps du Tendre by Julien Guerin, both of which are from the Ballets de Monte-Carlo. Jean-Christophe Maillot has given carte blanche to these young choreographers.
The concerts will commence at 19:00 on all days. To discover more, click here.
---
Prince's Palace concert
Conducted by Valerie Gergiev, the Monte-Carlo Philharmonic Orchestra will provide a special concert at the Prince's Palace on the Rocher of Monaco. The music of Claude Debussy and Hector Berloiz will be performed on the evening.
The concert will commence at 21:30, and will require guests to attend in business attire (jacket and tie). It is not possible to reserve this special concert, as attendance is by invitation only. To discover more, click here.
---
Friday 16
Artcurial Motorcars exhibition and auction
Following on from a successful classic car auction earlier this year, Artcurial Motorcars return to Monaco with a more than impressive line-up of around a hundred exceptional cars set for auction.
Among the jaw-dropping line-up are an immaculate 1965 Aston Martin DB5 and a stunning 1968 Lamborghini Miura P400. The classic cars that are destined to be auctioned off in the Hôtel Hermitage on July 19 will first be exhibited in the Collection of Cars of HSH the Prince of Monaco from Friday July 16 until July 19, giving tasteful motoring enthusiasts a chance to inspect the stunning machines before they are sold to their lucky new owners.
To discover more, click here.
---
Broadway Danny Rose
From 21:30, the Audiovisual Institute will screen the 1984 black and white film by Woody Allen, 'Broadway Danny Rose' at the Fort Antoine Theatre.
Visitors are welcome to attend the screening for free, just make sure to reserve your tickets at the Princess Grace Theatre beforehand. To discover more, click here.
---
Monaco Red Cross Summer Concert 2021
This year, the Monaco Red Cross will welcome British jazz-pop songwriter, pianist and singer Jamie Callum onto a specially-created stage on the Place du Casino.
This evening will be open to all, but Monaco Red Cross donors will be welcomed onto the new terrace of the Café de Paris before going to Place du Casino. As is tradition, works of art created on the theme of the Red Cross have been offered by Laurence Jenkell and Nick Danziger, two internationally-renowned artists.
A cocktail and concert combination will cost 800 euros, while concert tickets alone range from 200 to 500 euros in price. The dress code is elegant. To discover more about the concert on the Monte-Carlo Société des Bans de Mer website, click here.
---
Saturday 17
Custom art helmets charity auction
An auction of 98 creatively customised motor racing helmets will be held in the Collection of cars of HSH the Prince of Monaco. All funds raised in this auction will be donated to the renovation project of the Neonatal and Hematology Pediatric Oncology services of Archet II in Nice and to the Monaco Liver Disorder Association.
The charity auction will begin at 17:00. To discover more, head over to the Artcurial website available here.
---
Ongoing
Sergio Fermariello 'Inventum' Exposition – at the Galerie Adriano Ribolzi
Until the end of August, this exhibition continues to relatethe story of a unique and daring encounter between four artists with different horizons. Fermariello's works are paintings with figures that can be interpreted as warriors.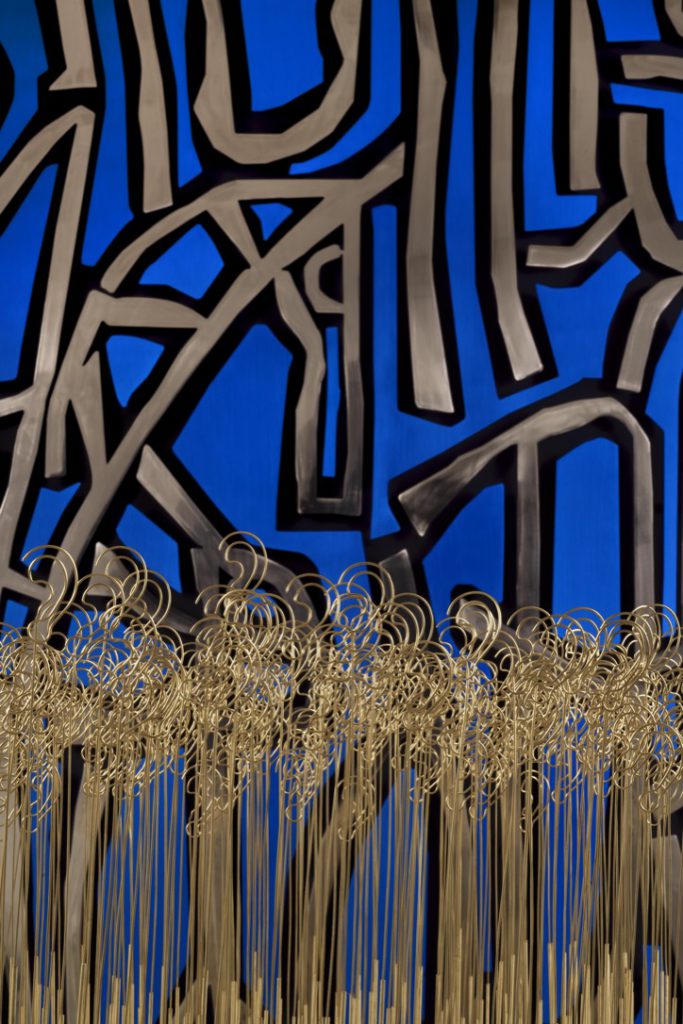 "For this second part of the Centenary of Maison Ribolzi, it is with the same passion, with the same commitment that I invest in the search for renowned artists offering interesting and high-level works and creations.
Sergio Fermariello, one of the leaders of contemporary Italian artists, corresponded perfectly to my wish and I am happy to welcome him within my walls. His three-dimensional paintings-sculptures use primitive figures of the warrior on horseback combined with resolutely modern materials, in the form of an archaic figurative writing.
For this exhibition, Fermariello also surprises us with two installations similar to wheat fields, but which, for those who are attentive, are in reality listening undulating fields, an invitation to listen to Oneself and the world around." – Adriano Ribolzi
---
Looking Forward
Artcurial auctions
Artcurial Monaco has a lot on offer in July with several auctions throughout the month.
July 19
Artcurial Monaco Motorcar Auction – at the Hermitage Hotel from 16:00
July 20
Artcurial Monaco Jewellery Auction – at the Hermitage Hotel from 14:00
Artcurial Monaco Important Watches Auction – at the Hermitage Hotel from 18:00
July 21
Artcurial Monaco 'Le Temps est Féminin' Auction – at the Hermitage Hotel from 14:00
July 22
Artcurial Monaco Hermés & Luxury Bags Auction – at the Hermitage Hotel from 12:00
Artcurial Monaco 'Monaco Sculptures' Auction – at the Hermitage Hotel from 14:00
To discover more about Artcurial Monaco and each event, click here.
---
Featured image: 'Steve Racing' helmet set for auction as part of the custom art helmets charity auction on Saturday, July 17