MonacoUSA and Monaco's Foreign Residents' Club joined forces on Tuesday, November 12, to celebrate what would have been the 90th birthday of HSH Princess Grace.
CREM's founder, Louisette Levy-Soussan Azzoaglio, spoke of her fond memories of the Princess over the 19-year period in which she served as her personal assistant.
Speaking in front of a striking portrait of Princess Grace by MonacoUSA member Stefanie Van Zyl, Louisette said: "The Princess was a beautiful woman, and her beauty was on the inside, too. She adopted Monaco and brought to Monaco a world of beauty."
The Monegasques warmed to the Princess over the years, Louisette told the large gathering at the Club, and Princess Grace reciprocated by adopting Monaco as her own. Among the many things the Princess did was to organise events around the centenary of Monte-Carlo in 1966, and co-founding the Monte-Carlo Television Festival which has continued to grow over the years. Princess Grace went on to work assiduously for her adopted country in very many ways, shaping the Principality into something quite different to how it had been before she arrived.
"I was very lucky to have had the opportunity to work for the Princess over 19 years," Louisette said. "She was a large part of my life and I thank her every day."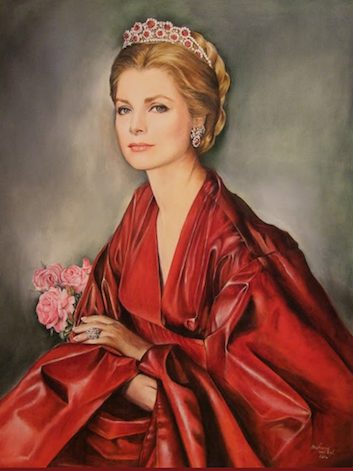 MonacoUSA director Annette Anderson said she regretted that she had not known the Princess herself, but having spoken to many who did she knew that the former Grace Kelly possessed a large range of creative talents.
The new CEO of the Princess Grace Foundation USA, Brisa Trinchero, spoke of the living legacy of the Princess thanks to the work of the Foundation and the support it provides to emerging creative artists. Herself a two-times Tony Award winner, Ms Trinchero spoke of the honour of a new era at the Foundation and building upon the enduring legacy of Princess Grace and Her commitment to excellence in theatre, dance and film.
PHOTO: CEO of the Princess Grace Foundation USA, Brisa Trinchero, CREM's founder, Mme Louisette Levy-Soussan Azzoaglio, and MonacoUSA director Annette Anderson Ian Brodie