After the Restoration and the death of Honoré IV, his son Honoré V became the head of state, having ruled on behalf of his father for more than three years. He was at that time a bachelor of 40 years who was not hugely attracted to this role and would rule from a distance as an absolute monarch. During his reign of 26 years he was only in Monaco for four periods – never longer than a year and a half – because he preferred to stay on the estates in Normandy or in Paris. It even happened that he was not in his country for a period of five years. He also had a palace in Carnolès restored without spending much time there. It seemed as if developments in Europe in the first half of the nineteenth century passed him by completely.
The protectorate of Monaco had been given to Sardinia after the second Treaty of Paris in 1815 and this led to a special treaty between the two countries two years later, which was signed in the monumental palace of Stupinigi, near Turin. The dwarf state was given some obligations. The official language became Italian, instead of French, and Monaco had to give up some rights. Sardinia demanded, among other things, that Monaco stop its tobacco industry, while the salt trade was subordinated to the interests of the kingdom. In fact, the Prince's government came under strict supervision from Turin. The Monegasque economy was damaged because the market in Piedmont was much smaller than in France. The restoration of prosperity took too long and that led to unrest among the population, especially in Menton.
Honoré V tried to gain confidence by financing a few workshops and factories to provide employment for the inhabitants, but the economy continued to rely mainly on agriculture and the export of lemons and olive oil. The problem was that there was no good economic plan behind all the initiatives and that as a result, the workshops and factories (especially textiles) often did not stay alive for long. The Prince was not progressive and usually opted for conservative and outdated ideas instead of innovation. He did, however, explore the possibilities for his country in the field of tourism.
Monegasque companies were limited due to limited export opportunities and thus a lot was produced for the internal market. At one point there was even a ban on the import of products from abroad, to the anger of the inhabitants of the dwarf state (because the quality of those foreign products was often better). In addition, high taxes were an additional reason for discontent in Menton and Roquebrune.
Honoré V tried to respond to criticism of his way of governing with philanthropic projects. He invested in better education in his country and he also wanted to combat poverty with a form of social housing. The Prince made himself completely unpopular when he started to increase the indirect tax on consumer goods. The resistance in Menton grew larger and was initially crushed with a heavy hand. When Honoré V died childless, there was relief among the people because things could never get worse. The financial situation in the country had become deplorable.
His brother Florestan succeeded him in 1841. He was already 55 and was hardly prepared to fill the role. He had grown up in Paris and developed a refined sense of the fine arts. He was on stage in a number of theatrical productions and became a comedian. He was not concerned at all with his brother's position. At the age of 29, he had fallen in love with Caroline Gibert de Lametz, a 21 year old dancer from a high class family, but his parents had not agreed to the marriage. However, they married and they had two children: Charles and Florestine. Florestan received a cheerful welcome on the rock, because the Monegasques hoped that they would finally have to deal with a modern and more liberal monarch. But they were deceived.
Florestan left much of the government of the country to his wife, who had better social skills and was very intelligent. Caroline made most of the decisions for him. She immediately set a fixed bread price and reduced some taxes. The couple spent most of their time in Paris and ruled remotely. The policy was less liberal than hoped and led to new protests in Menton in January 1848. This time they were allowed by King Carlo Alberto of Sardinia, who secretly sided with the insurgents in order to take the city later. There was even a brief threat of civil war between Menton and Monaco. Florestan caved to this pressure and agreed that Menton should have its own city council. It was also decided to hold referendums in Menton and Roquebrune. In both places, a small majority was in favour of joining Sardinia. In a few weeks, Menton and Roquebrune acquired a disguised independent status as "villes libres" under the protection of Sardinia. The Principality was now divided because the Grimaldis could only count on the support of a majority of the people in Monaco itself. The presence of Sardinian soldiers in Menton and Roquebrune (as protectors) was an extra ingredient in this situation.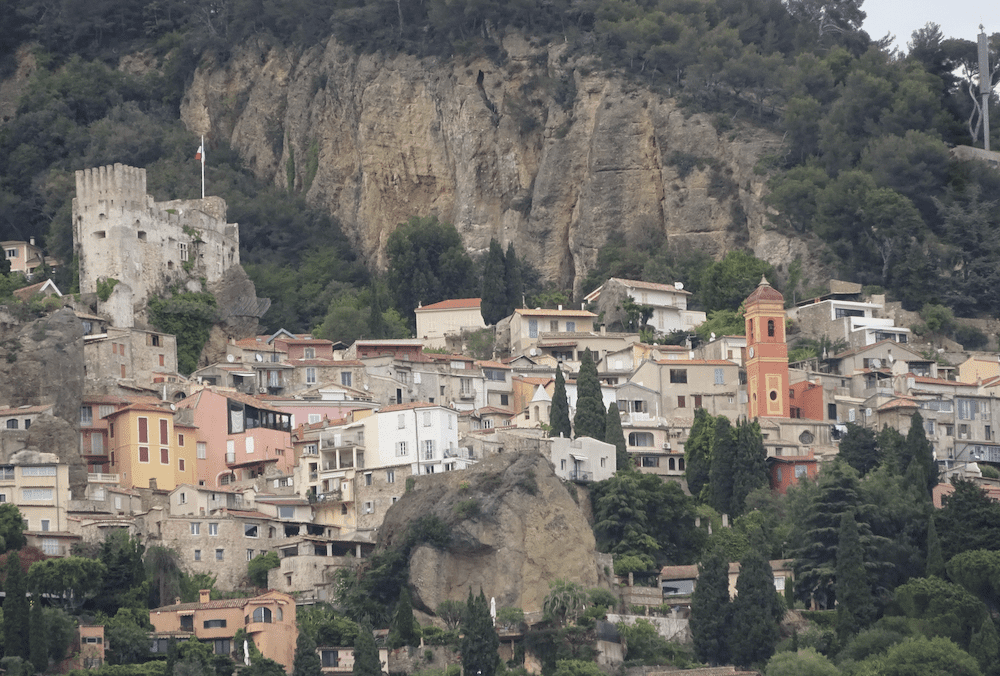 In the summer, Carlo Alberto offered to buy both towns from the Prince (for six million francs). On September 18, 1848, the king had the towns occupied and his administration took charge 'on a temporary basis'. There was talk of a 'semi-annexation' without the Monegasques being able to do anything about it. However, the prince of Sardinia could not push this through because he faced setbacks on other battlefields from July 1848. He would resign in favour of his son Vittorio Emanuele II and his prime minister Cavour, who took a different political course and did not want to burn their fingers on the "small" issue of Menton and Roquebrune, which was of minor importance in their plans for the unification of Italy.
The situation remained fragile. This was especially evident when Crown Prince Charles went to Menton in 1854 for an official visit. In the streets, riots broke out between supporters and opponents of the Grimaldis. Charles was arrested by the Sardinian guard, immediately expelled from the city and even taken to a prison in Nice. A diplomatic row was imminent, but the newly elected Louis-Napoleon III ordered the release of the Prince. The Sardinian Prime Minister Cavour obeyed immediately because he needed French cooperation in the realisation of the Italian unitary state. That project was even more important than annexing Menton and Roquebrune. Charles was released but would not soon forget this humiliation. Florestan retired to Paris and died there on June 26, 1856. A new era was imminent.
PHOTOS: The Palace on the Rock, centre, Roquebrune
…