The Saint-Charles Swimming Pool reopens its doors on Thursday June 1, 2023 at 13:00 after a major makeover.
Two new activities are being offered at the facility next to Saint Charles Church.
Children from 6/7 years old will be able to learn to swim "by undulations recalling that of mermaids or dolphins," the Town Hall says. The Aqua Mermaid and the Aqua Dolphin will be supervised by an experienced coach, allowing the younger children to tone their whole body and gain confidence, including underwater.
These classes are available on Wednesday afternoons and are strictly for children who already know how to swim (a swimming test will be carried out beforehand).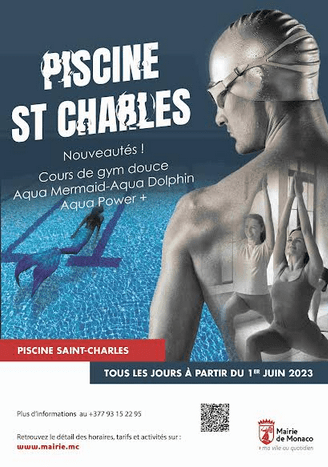 For adults, two new courses will see the light of day. For experienced athletes in good physical condition, an Aqua Power + aquagym course, in and out of the water with the use of weights, rubber bands and mats (etc.) will be offered with dynamic music, with the aim of promoting cardiovascular activity. The more "relaxing" class, the Aqua Relax, will promote stretching and breathing exercises to soft music.
In addition, the gym of the sports complex has been refurbished into a new activity area with pilates, yoga, stretching (etc.) classes supervised by a coach especially recruited for the occasion. More information (in French): www.mairie.mc
ORIGINAL SOURCE & PHOTO: Monaco Town Hall