Invited for the third year to the Principality by the Monaco Economic Board, Christophe Barraud, Chief Economist at Market Securities, recently delivered his economic forecasts in his three areas of expertise: China, the United States and Europe.
More than 80 business leaders and specialists came to discover the economic prospects envisaged by Christophe Barraud on Tuesday, May 16 at the Novotel Monte-Carlo.
Christophe Barraud has been named, virtually uninterrupted, the best forecaster in the world by Bloomberg for China, the United States and the eurozone for many years.
Regarding China, the economist appeared rather optimistic. Relying on a great deal of data, he notably mentioned the resumption of air traffic, and real estate, which is on the rise again from the beginning of the year, thanks to fiscal policies and strong investments on the part of the authorities.
In 2022, the Chinese saved twice as much as usual due to health restrictions and low inflation. Christophe Barraud forecasts GDP growth of 5.8 percent at the end of the year and a favourable trend for 2024.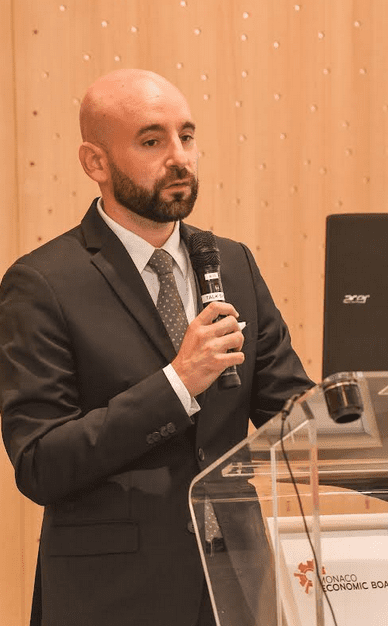 "That was the positive part of the presentation," joked the economist, moving on to the following. Because for the United States the outlook seems bleaker. Besides the crisis situation affecting small and medium-sized banks, credit conditions are harder, which should lead to a drop in consumption, an essential driver of growth in America.
Indeed, Christophe Barraud predicts a recession for the end of the year with a GDP evolution of 1.2 percent for 2023 and a more pessimistic outlook than the consensus for 2024 with growth of only 0.4 percent.
As for the eurozone, if it narrowly avoided recession thanks in particular to mild winter temperatures and a rebound in the service sector, causes similar to those in the United States should lead to a negative end of the year and an exposure to unfavourable trends in the international context. For 2024, Christophe Barraud is clearly more pessimistic than the consensus projections with growth of GDP limited to 0.4 percent against one percent.
Finally, with regard to central bank policy, given that the tightening of credit conditions is beginning to affect economic activity and inflation passed its peak in 2022, Christophe Barraud foresees a fall in FED rates from the fourth quarter of 2023. In Europe, inflation, which is still high excluding energy and agricultural products, should lead the ECB to raise rates further by this summer.
Following his presentation, there was no shortage of questions and the economist answered them with a great deal of precision.
PHOTOS: Carte Blanche/MEB)