You might have heard that Mark Armstrong has retired. If you know him well, you might have noticed that nothing has changed. You will still see him at Casa del Caffe in the morning – at 'his office outside of Sotheby's office' – in jolly conversation with a friend or a client or a journalist who is eager to hear his story.
It is closely intertwined with Sotheby's Auction House – where Mark worked and led its offices in Monaco for the past 38 years. From a "discreet" location to a gallery space – Sotheby's presence in Monaco under Mark Armstrong's baton flourished and confirmed its position as part of the leading auction house in the world.
Mark didn't study art at University – he chose History and French instead – but his appreciation for all things beautiful – whether it's paintings, porcelain, furniture, sculpture – comes from the very early influence of his half-French mother.
One of triplets, Mark was born in London. His father was in the Navy, so the family travelled a lot and Mark and his brothers went to eight different schools. "But wherever we would be, my mother had this great gift of creating a home. She used to take us to museums a lot. We had nice furniture… she always managed to somehow create an aesthetically pleasing atmosphere."
At the age of 13 his family moved to Malta. As was then (and still is) the norm in the Services, the children would stay at a boarding school in the UK. Mark's mother would not have it. "The boys will come with us!"
And here started Mark's love affair with the island – Mark has a beautiful house there – and travelling itself. The three brothers went to the Navy school, but the outgoing personality of his parents very soon made the family socially connected to Maltese families, they learned the history of the island and enjoyed a lifestyle out of a fairy tale, swimming and water skiing all summer, but also traveling through Italy – Mark's most beloved country – to Austria. "I have always loved Austria, I adore Salzburg, I love skiing in Kitzbuhl."
Mark's favourite film as a child was The Sound of Music. "Particularly the scene when the captain whistles the children in – when I was a child of that age (8-9) we lived in a village in Hampshire, all of my friends' fathers were in the navy – so when we saw the captain in his uniform whistling the children in we thought that must be normal even in Austria! It felt like home!"
After returning to England, Mark – then 17, found an old oil painting in the family's country house. "My father told me to research it and if it was valuable, we could sell it and go on a family holiday…"
Mark took the painting to London. "I went to Sotheby's to inquire about selling it and the person behind the counter knew straight away who the painter was as well as all about the period when this was painted. I was so impressed – This made an enormous impact on me. I wanted to work there…"
Sotheby's didn't have an opening for a long time and they also recommended that Mark start gaining experience elsewhere. Mark studied at university and worked at antique shops and later on as a Porter at Bonhams. After some time and perseverance – there was a position available at the Sotheby's Johannesburg office. Mark got his dream job.
"It was very exciting, I had to learn and research different types of art, learned how to talk to clients, learned from experts in different departments. It was an invaluable experience and I thought this was a fantastic life."
Nothing could change the way Mark's career took off but one phone call did. It was from his father. Mark's mother was seriously ill. Mark had to return home to his family to help, not thinking what his next job or career would be. Sotheby's asked Mark to come back. A position had opened in the Valuations Department in London and then as Representative in East Anglia and they thought he was now ready to take it. "One thing I particularly liked about Sotheby's was their ethic of caring for their employees. I felt part of the family there."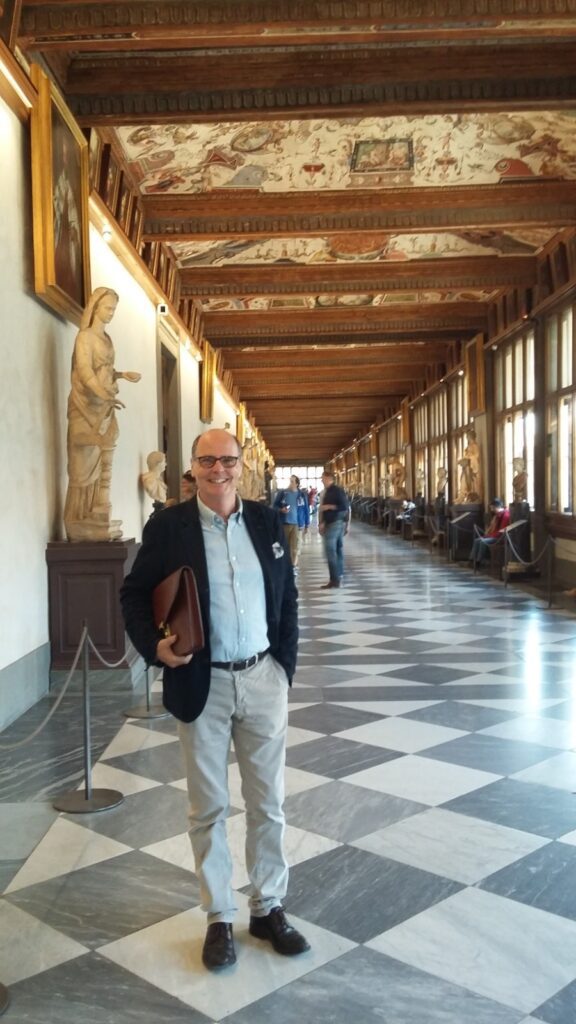 In 1985 Mark received an offer to work at Sotheby's in Monaco. "Amongst other things I worked on the famous Windsor sale – silver, objets d'art – that was my big first major project with Sotheby's. It must have been done well because they agreed for me to go to Italy and study the language – I asked for a month – they said, take three…"
"I took every course I could, I went to the office every day and spent so much time in the museums. I had never studied history of art but I was enthralled by the great Caravaggios. Obviously, I very often went to the Sistine chapel – I was very lucky, and of course, when I returned to the office we were very busy. We had sales in February, April, June, October and December and all that involved cataloguing, researching and of course later on in 2001 when the market changed – the Monaco office had become a representative office."
Mark was also asked to start a department that was European International Valuations – he did that from the early 90s to early 2000s…"We undertook inventories of major clients in France, Switzerland, Italy, Belgium, Germany and Austria."
"There was a period in the nineties with huge chateau and palace sales – that was great fun. I was driving my car everywhere: you would do something in Geneva, then you would go to Bern, then you would go somewhere else and by the weekend you would end up on the Italian lakes."
After such a career, what would you consider your biggest achievement?
"Keeping my family together. My second child Alexander was born in '94. And in '95 I was travelling most of the time I was hardly at home. Later when we realised something was very wrong – Alexander was diagnosed with severe autism – I took the opportunity to slow down and stay in Monaco – I took the decision based on the 'family that lives together stays together' and in order to get through this I had to be here all the time. I can't say I stopped my career, I just stopped some part of it. For me personally it wasn't a sacrifice. So many families I know were in the same situation which proved difficult for them. Alexander is in structure now, he comes home every other weekend. Even now my wife and I have an agreement that we will never be more than one flight away from home. The possible problems such as a sudden rush to the hospital made us very aware."
Mark is an active member of the Knights of Malta, a Catholic lay religious order, traditionally of a military, chivalric, and noble nature. "Once a year there is a Pilgrimage to Lourdes. People behave themselves there as they should behave if they were outside in the world… For me It's a time for contemplation. It's also looking after the sick – the whole ethic of Knights of Malta is to look after the sick."
Is it your faith that helps you through hard times?
"Faith? Not so sure…Somebody said to me I have a strong ethic… family ethic, work ethic – in terms of what I do, how I do it… who I interact with, I just want to do things well."
He is now returning to his old love. "I study the Old Masters, something I have never had the time for before – you know in the art business there's only that much art. Most of the time it's getting it somewhere, it's doing your due diligence, it's dealing with customs, shipping and prior to that tying-in with specialists, deciding which market in the world is currently best for a particular piece."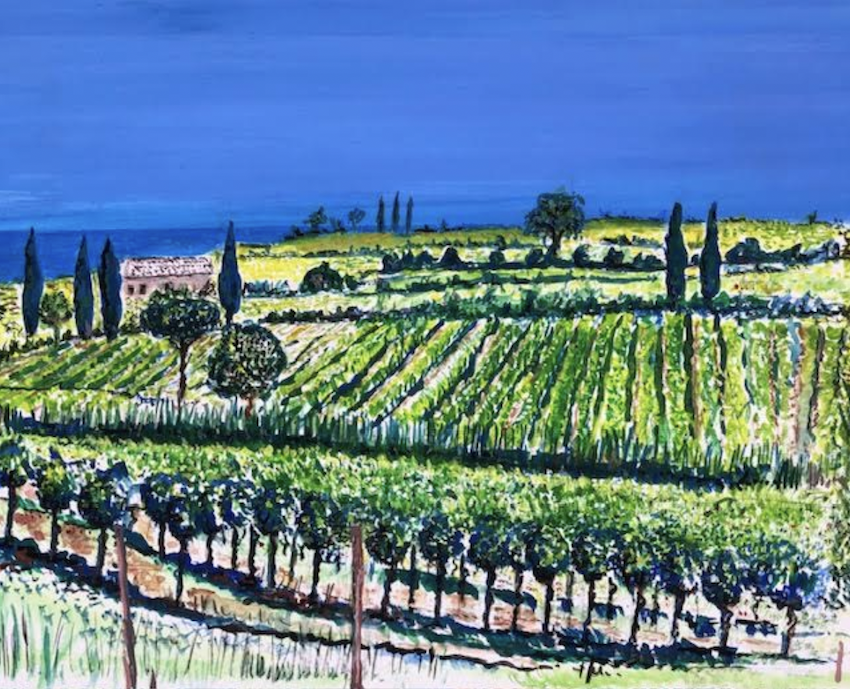 Mark also paints. "Recently I have just been doing views from our house in the Var for my wife, but I do still spend a lot of time in Monaco. I like Monaco. When my father came to visit he couldn't believe how Monaco changed – he used to take the train from the front of the Opera… Every generation witnesses changes. I believe there is a sense of community here. And it comes together for the Opera, Big Concerts and cultural and sporting events."
I note that every time I meet Mark, he is on his way to or from the Opera. "I love Opera – because you got everything there: music, spectacle, costumes, acting – so much depends on the night!"
Across the road, Sotheby's new permanent gallery is buzzing. Although no longer with a full time job, Mark still meets clients and keeps in touch as a consultant.
How retired are you… really, I ask?
"Oh I am retired. It's so nice not to have to get up at 6:30 to be in the office at 8:30…"
So what time do you get up now?
"At seven." Says Mark with a straight face. And then we burst out laughing…
PHOTOS: Main, Florence, looking onto the Arno and Corsini Palace, and, centre, in the Uffizi Galleries, lower, A Ramatuelle view, painted by Mark, gouache