If the world's number one TV franchise ever finds its way to the shores of our sun-kissed micro-state, I for one will be glued to the first episode of "Monaco's Got Talent". I can picture it now, hordes of Simon Cowell devotees vying for attention, edging slowly forwards in a queue that winds its way around the Grimaldi Forum, all getting ready to sing, dance and entertain. Unfortunately, I fear their hopes and dreams will be dashed as the final result will be a forgone conclusion. One contestant would undoubtedly outshine them all with his sparkling flair and panache. If ever there was a man who was born to be on stage it's the flamboyant, Lebanese-born showman, and make-up artist extraordinaire, that is Joe Ghannam.
Whereas most of us have a front door, I imagine Joe's apartment to have a lush red velvet curtain that goes up each morning as the lights come on and out he strides onto the stage of life. His aura shimmers and shines as much as the dazzling array of eye shadows he so meticulously applies to his long client list of well-heeled, discerning ladies as Monaco's leading make-up artist.
Rock up to any of the hippest parties in Monaco; whether it's the uber-glam "End Of Summer" Lürssen bash, the Yacht Club's legendary Oktoberfest or the raucous F1 after party on the table tops at Anjuna Beach and you're bound to encounter Joe in full, fabulous, dancing diva mode. He'll be the one at the front of the stage, or most likely on it, groomed, styled, honed and toned to perfection, shirt unbuttoned to reveal a firm olive chest. With tight pants and mic in hand he'll probably be belting out a lively little Jackson Five number, while giving Jagger a decent run for his money with some sensational dance moves. This image-conscious guy just can't help it, it's in his DNA. He oozes a magnetic and tantalizing joie de vivre, enchants and delights with his beauty and style and displays a dance floor self-confidence that's rarely witnessed on the Cote d'Azur. M. Ghannam has become such a cherished feature of Monaco's best parties that the YCM actually calls him up in advance to request his attendance.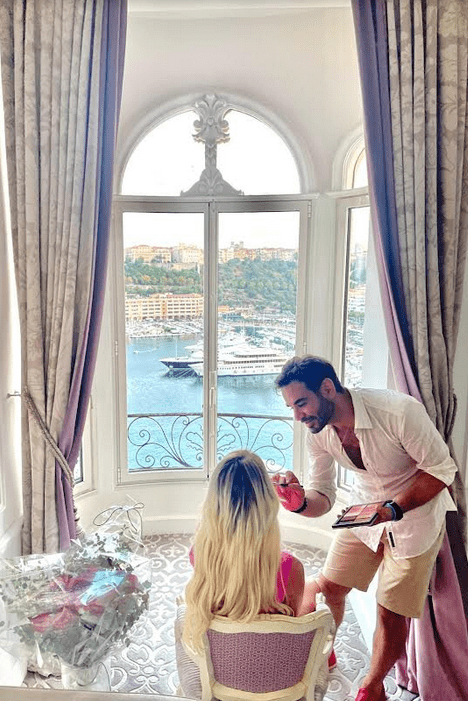 As well as being a natural performer, Joe also has the artist archetype painted all over him. Known around town as "Joe, the make-up guy" he's had a fascination with cosmetics since his youth, discreetly bartering with his Uni friends to let him practice his skills and in return he'd take them out for lunch. Make-up, however, was a taboo subject whenever his parents were in earshot, for they had high hopes of serious qualifications and a "real job". Eighteen months of hard study was more than enough time for this clever, young, bon vivant to conclude that Computer Science was neither interesting nor his life's destiny. Instead, he turned his hand to completing an MBA in Marketing & Advertising; far more in keeping with his creative spirit.
Ever the charmer, young Joe's natural presenting skills emerged for the first time when he participated in a Lebanese TV talent show. He was finally able to blossom and his exposure on the popular program led to a short-term contract to host his own TV slot, becoming one of the youngest, freshest, faces on Arab TV. Spontaneous, confident, playful and relaxed, his on-screen style was a breath of fresh air.
TV was Joe's wardrobe door to Narnia, not only opening up a gateway to a whole new world, but ultimately to life in a whole new continent. Joe found himself in Monaco in 2003 after being offered a job with a top-notch real estate agency, specifically to assist the Middle Eastern clientele. Fluent in French, English, Arabic, he was the ideal candidate.
Initially the stop-off in Monaco was only due to be for a couple of years and then he planned to journey on, as Joe's mind always requires a constant flow of amusement and excitement, variety and fresh horizons. That's the shapeshifter in him; a natural affinity for new adventures coupled with a chameleon's effortless ability to adapt to new situations, new challenges, new possibilities. However, the universe clearly had other ideas.
During a career spanning more than twenty years in Monaco, he turned his hand to an eclectic mix of roles. From sales and marketing to PR and events, he's learnt about precious stones, contemporary art, real-estate and even casino management. Computer Science? Yeah, that's nowhere to be seen!
Inevitably, he finally found his true raison d'etre in the one thing that so intrigued him as a young man. His eureka moment came eight years ago when he finally made the leap to turn his childhood passion into a "real job". Monte-Carlo Make Up was established and Joe's moniker as "the make-up guy" became his professional title and full time job. He could shade, highlight and contour to his heart's desire. Now, whenever this ravishing Arabian knight is in the company of captivated females, the chit-chat always circles back around to the latest must-do beauty treatments and make up styles. Joe, ever the artiste, will regularly then dip into his box of cosmetic tricks, whip out an eyeliner and add in a touch-up here and there. 
Being a major social butterfly in Monaco and moving around the hangouts of high society certainly has its perks. When his new business opened, the darlings of Monaco willingly surrendered their bare, exposed faces into his magical hands; transfixed by the unfolding transformation in the mirror as Joe gradually teased out the beautiful wings of the butterflies. Demand for flawless beauty grew rapidly and he rode the wave with glee. Fun and exciting contracts came in; bridal make-up, luxury brand fashion shoots, VIP events, private jet travel with the rich and famous, career talks – you name it, he's been there and done it. Whilst Joe is always highly discreet about his clients, it's no secret that he's worked with myriad royalty, actresses, singers and models. They've all had their God-given features refined, retouched and enhanced by Joe's artistic hands, including Eva Herzigova, Sophie Marceau, Princess Antonella D'Orléans-Bourbon, Princess Camilla de Bourbon, Kelly Kruger, Antonia Benett – even Lebanon's best-known singer, the "Queen of Arab pop", Nancy Ajram. 
The Joe Ghannam Package offers far more than your average make-up artist; for behind his striking appearance lies a compassionate and intelligent soul. He is your new best friend, your fashion adviser, your nutritionist, beauty consultant and confidant. And, if you're on his A-list, he might even take you as his +1 to the Russian New Year's Eve party at the Yacht Club.
A quick scroll through Joe's Instagram reveals that this is a man who takes social media pretty seriously. Image is everything and sexy certainly sells. Whether dancing, partying, posing in stunning locations across the globe or hanging out with equally gorgeous-looking friends, his life appears like the pages of a glossy magazine. The life that he once dreamed of is now the success story that he alone has created. He's got 72 pairs of shoes in his wardrobe. It doesn't get much better than that.
Beauty, though, is perhaps not the only attribute in the eye of the beholder. Upon a recent trip visit to Monaco to visit their son, Joe's parents were tickled pink by the success, respect and admiration that follow him wherever he goes. They left with full hearts, bursting with pride for their strong-minded, ambitious boy and the realisation that make up, in fact, has no gender-related boundaries.
Joe has progressed far beyond the TV talent show that served as his launch pad in the early days, so I don't think budding young contestants have anything to worry about now. But if they're planning a sequel to "The Greatest Showman" then I think Hugh Jackman may indeed have some stiff competition.
https://www.facebook.com/montecarlomakeup
PHOTOS: Joe at play and work