It takes more than a designer label to stand out on social media, it takes genuine panache, and sophistication. Katie Holmes is a seasoned fashionista who oozes style from every pore so it's no wonder her latest post is so captivating. This striking, slim, 50-something blonde with a crimson smile perfectly framed on my iPhone is wearing a divine, vintage Christian Dior number that wouldn't look out of place at the Met Gala or an Oscar's ceremony. Like so many of the pre-loved clothes she promotes and sells, the glamorous 1970s black silk top, skirt and shawl she's modelling hold an illustrious history within their woven threads. When she reveals that the outfit was worn to the premier of the movie Ghandi in 1982 and has been in storage ever since, their red carpet credentials are confirmed.

It looks absolutely stunning on her, but then again, that's her job. She effortlessly pieces together bijoux items of clothing, shoes and accessories from her personal Aladdin's Cave, posts the finished ensemble on Instagram and then has every female viewer wistfully wishing to look as elegant as her.
Monaco life can be full of first-world problems, but a genuine conundrum is what to do with an outfit once worn. You made an entrance at the Red Cross Ball, you were seen and photographed so what now?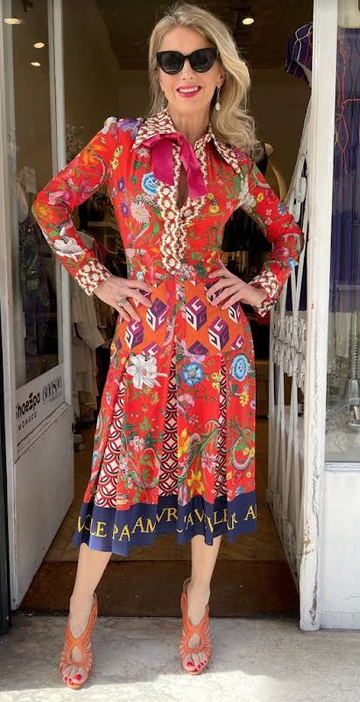 The ladies of the Principality are drawn to Katie Holmes' shop like bees to honey. Her pre-loved clothing store, The Queen Bee, located up behind the Casino Gardens, is always a hive of activity and Katie has worked hard to create the successful, thriving business that it is today. They say you can't buy style, but, lucky for some, the Monaco crowd have Katie and her extensive fashion expertise right on their doorstep. Whether buying or selling, ladies return to seek her help and advice on a daily basis. Re-vamp your wardrobe, freshen up your image or simply find that perfect-little-something for that big occasion.

Born in Harpenden, UK, young Katie would leave school at the end of the day to go and tidy up the shelves in her mother's clothes shop, The Birdcage. Every so often Mum would host a fashion show, and so image, creativity, trend, design and flair became de rigueur in Katie's world, with her beautiful, stylish Mum being her first fashion idol.
Katie left the white cliffs of Dover in her early twenties after the death of her father, to study Spanish in Madrid where she met a nice young French man. One small detail, however, he lived in Paris. Oh, la, la! And so it was that Paris, fashion capital of the world, became her home for over twenty years. She landed on her feet when she eventually found her dream job as a fashion stylist for Spanish Vogue, where she worked for ten years, and then moved on to style for French TV, dressing the celebrities and styling the stars. In 2008, enticed by another Don Juan, she relocated to the South of France where she's lived, with her two bilingual children, Dylan and Poppy, ever since.

Being a working Mum in the south of France, as many can testify, isn't always easy. Career choices can be limited; one must adapt to the local financial climate and life's certainly not as cosmopolitan as in the city. Katie needed to reinvent herself, so she started pop-up shops selling pre-loved clothing. Thankfully, it was a much sought-after market and not long after The Queen Bee shop was launched.

A visit to Katie's boutique is always a treat. This sassy, classy lady always greets you with a beaming smile and a warm welcome as you walk in the door, come rain or shine. Her clientele hail from Cap Ferrat all the way to the Italian border and everyone is searching for that special vintage piece, that real find, a true bargain. In Monaco, there's not much in between the high-end and the high street. The cavernous void between Dior and Zara is where The Queen Bee shines bright. Like kids in a candy store, visitors find themselves searching for that "one-off" item that no one else has! Since Katie's clients travel all over the world, a myriad of eclectic and diverse, global labels come in. Every day there's a pandora's box of on-trend treasures just waiting to be discovered.

In her spare time, this super-Mum loves nothing more than to be with her kids or friends. Entertaining, gardening, cooking, brocantes and walks in nature are amongst her passions. Art and design, fabrics and textures are her thing.
So next time you're scrolling through Instagram and spot a Queen Bee among the swarms of Wanna Bees, it's probably Katie promoting one of her latest new arrivals. She knows her Louboutins from her Manolos, but it's all ultimately thanks to those early years spent walking in her Mum's shoes. And I bet they were beautiful too!

The Queen Bee, Palais Gallia, Place de la Crémaillère, 06240 Beausoleil,
Tel 04 93 83 53 68, 06 03 02 42 37
www.prelovedmonaco.com