PARIS (Reuters) -Clashes erupted in Paris next to a Left Bank brasserie favoured by French President Emmanuel Macron during a day of nationwide protests against a pension bill that he has pushed through despite widespread opposition.
La Rotonde, whose awning was briefly on fire as protesters threw bottles and paint at police, is well known in France for hosting a much-criticised celebratory dinner for Macron when he led the first round of the 2017 presidential election.
Protests since January have gathered huge crowds against the flagship reform of Macron's second term, which lifts the retirement age by two years to 64.
But the rallies and strikes have also coalesced widespread anger against the president, who is often the target of banners and chants.
"Strike, blockade, Macron walk away!" protesters chanted in the western city of Rennes, where police fired tear gas at protesters who threw projectiles at them and set bins on fire.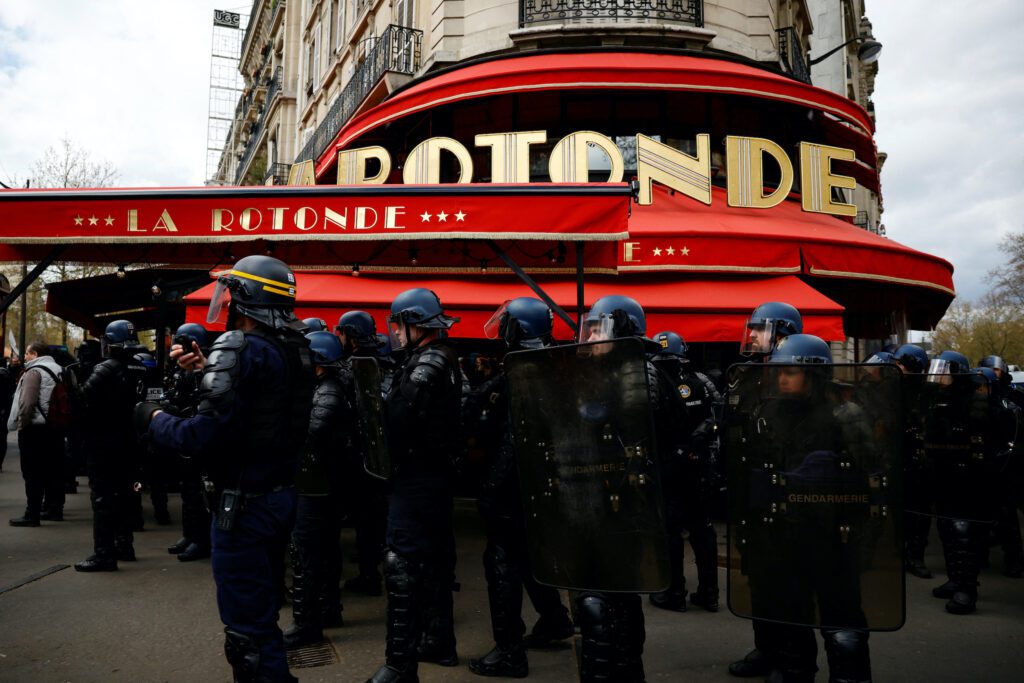 French gendarmes secure a position in front of La Rotonde restaurant during a demonstration as part of the eleventh day of nationwide strikes and protests against French government's pension reform, in Paris, France, April 6, 2023. REUTERS/Sarah Meyssonnier
The protests have otherwise been largely peaceful, though violence has broken out on the fringes in cities across France. On Thursday, a Credit Agricole bank branch was ransacked in Paris.
Polls show a wide majority of voters oppose the pension legislation and the government's decision to push it through parliament without a vote. But a source close to Macron said that was not what mattered.
"If the role of a president of the republic is to make decisions according to public opinion, there is no need to have elections," the source said. "Being president is to assume choices that may be unpopular at a given time."
Union leaders and protesters said the only way out of the crisis was for the legislation to be scrapped, an option which the government has repeatedly rejected.
CHALLENGE
"There is no other solution than withdrawing the reform," the new leader of the hardline CGT union, Sophie Binet, said at the start of the Paris rally.
Thursday's marches – the 11th nationwide day of protests in the past three months – could bring some hope to officials who believe the rallies may be losing steam.
Trains were less heavily disrupted than in previous days. Fewer teachers were on strike and the civil aviation authority asked airlines to cut flights by 20% in cities like Marseille, but not at Paris airports as in previous strikes.
A key date will be April 14, when the Constitutional Council delivers its verdict on the pension bill. Constitutional experts say the council is unlikely to strike the legislation down, which may help weaken protests.
"Mobilisation will continue, one way or another … It's a long distance race," the CGT's Binet said.
In the Paris rally, nurse Soraya Bouadouia said: "I will be here until the withdrawal of the pension reform, which is a completely unacceptable reform."
With Macron on an official trip to Beijing, one protester held a banner that read: "Macron resign. You will hear us all the way to China."
(Additional reporting by Stephane Mahe, Silvia Aloisi, Tassilo Hummel, Lucien Libert, Noemie Olive, Elizabeth Pineau, Michel Rose, Benoit Van Overstraeten; writing by Ingrid Melander; editing by Hugh Lawson, Mark Heinrich and Nick Macfie)
French CRS riot police take position in front of a destroyed Credit Agricole bank office near objects set on fire during clashes at a demonstration as part of the eleventh day of nationwide strikes and protests against French government's pension reform, in Paris, France, April 6, 2023. REUTERS/Sarah Meyssonnier