The upper House of Parliament in Antigua and Barbuda has approved the sale of super yacht Alfa Nero, which was abandoned in the Caribbean island state shortly after Russia's invasion of Ukraine last year.
Offers in excess of $50 million have already been made by potential buyers, one of them a Russian, Prime Minister Gaston Browne claimed, according to local newspaper the Antigua Observer.
Prime Minister Browne said on Monday: "There could be a fire. In fact, I am told the insurance of the marina could be affected because we have an uninsured vessel sitting in the marina and it is a risk to other boats," he told the Observer. "We are talking about billions of dollars of assets in that harbour. And you can imagine if that vessel was to catch fire what will happen."
The government had previously declared its intention to keep the bulk of the money from the sale after paying off the vessel's debts, which include $500,000 to the Antigua Yacht Club Marina for fuel.
The 269-foot yacht was previously owned by Russian businessman Andrey Guryev, a known close associate of Putin's who appears on the sanctions lists of the US, the UK and the EU.
The yacht boasts an on-board hair salon and spa, and a 12-metre infinity pool capable of converting into a helipad-cum-dancefloor.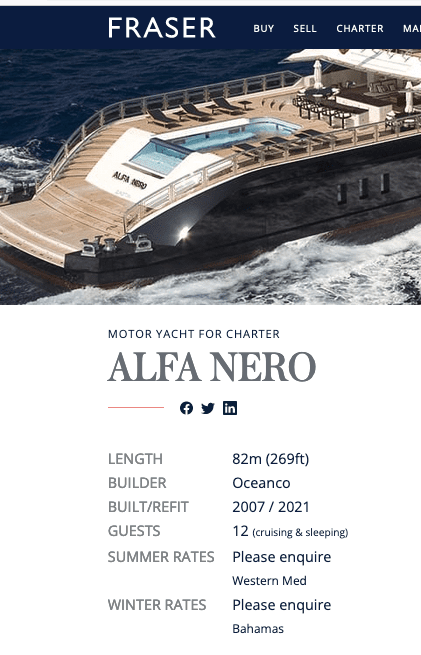 In the meantime, no-one appears to have told Fraser Yachts that the vessel is no longer available for charter, as it was still listed as available when this article was published at 13.31 on Tuesday, March 21.