Hauser & Wirth launched its second LA space inside a former car dealership in West Hollywood. The inaugural exhibition in the space a solo show by George Condo – sold out in a day.
Good news is that the Nouveau Musée National de Monaco is opening in March a museum show dedicated to George Condo "Humanoids", which will certainly attract top collectors and visitors from all over the world.
More information on the exhibition: nmnm.mc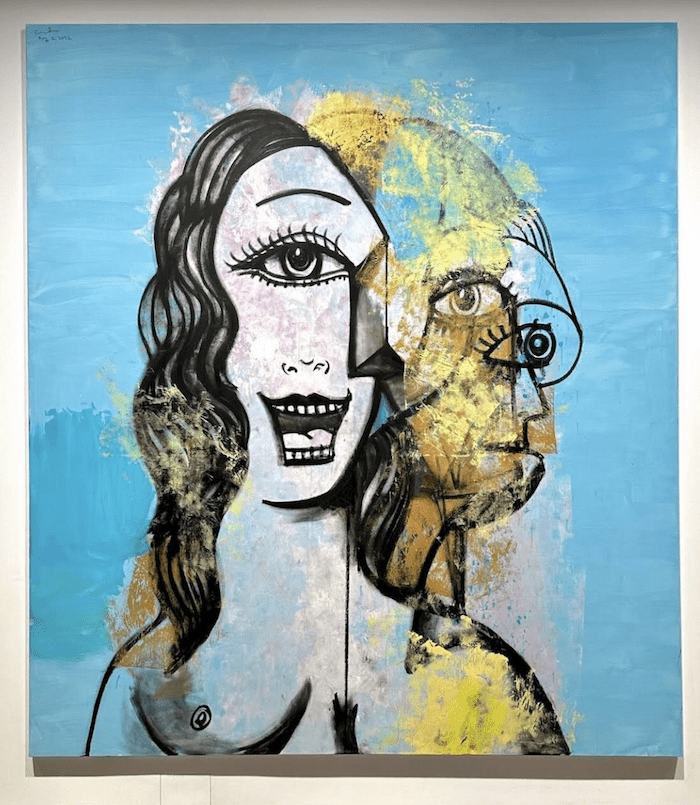 George Condo – Transitional Portrait in Turquoise and Gold, 2022, Hauser & Wirth Los Angeles
THINGS TO KNOW ABOUT GEORGE CONDO
After studying art history, Condo decided he liked Old Master paintings, and was therefore 'just going to paint them'. His work pays homage to Rembrandt, Caravaggio, and Goya – however, it is Picasso who inspires him the most.
His first job was in Andy Warhol's 'Factory'. Condo has described his desire to present a range of mental states, emotions and psychology as 'Psychological Cubism'. A term which he coined.
The artist's market continues to climb. Condo's unique works have attracted interest amongst high-profile collectors and personalities, achieving record breaking auction results.
FRIEZE LOS ANGELES
Just one day after the Hauser & Wirth opening, with 124 exhibitors, the 2023 edition of Frieze Los Angeles opened its doors, 25 percent bigger than the previous year. It is the largest iteration of the event since Frieze launched the Los Angeles fair in 2019. The fair's growth has been helped by a boom in the Los Angeles art scene, as more global galleries either expand to the city or open additional locations here. London-headquartered Lisson Gallery will open its first permanent space in Los Angeles in April.
The pace of sales, some pre-arranged, of course, seemed to reflect subsiding fears of a worst-case recession, which were looming over the art market just a few months ago. Dealers at the fair also suggested that certain pandemic-era changes are having an enduring impact:
Collectors are willing to spend money on art to display at their homes, where they are still spending more time. The visual nature of social media has also been a driving factor of increased interest in art in the city.
Socially and culturally, art is different than it was five or 10 years ago. It's not as niche as it was. With Instagram it's like a social currency to be somewhere and art has this cool cachet now.
The art market in general has grown and Los Angeles has a very good and very important group of collectors.
Auction houses Sotheby's, Christie's, Phillips and Bonhams all moved closer to the centre of the action, threw parties, hosted panels and scheduled exhibitions in their Los Angeles locales timed with Frieze.
The cherry on the cake will be the Lucas Museum of Narrative Art, which is scheduled to open in Los Angeles's Exposition Park in 2025 Lucas Museum of Narrative Art.
The museum is named for Star Wars creator George Lucas, who founded the museum with his wife, Starbucks chairwoman Mellody Hobson. It will add to the concentration of major art institutions in LA. Now, the proliferation of gallery pop-ups, expansions and outposts launching around a steadily growing Frieze fair, plus increasing auction house activity, suggest market forces will play a larger role in the scene.
Karolina Blasiak Art Advisory
PHOTO: Frieze, Los Angeles. Courtesy Frieze