Trying to get into the right frame of mind for Monaco Art Week, which starts next Tuesday, on a colleague's recommendation I went to see the small Maison d'Art exposition Gold, Secular and Sacred, a Journey from the 13th Century to the Present at the Hotel de Paris.
The half dozen or so works of art from 1280 onwards were breathtakingly beautiful. I use my words carefully, because the wonder of seeing these beautiful paintings from six and seven centuries ago is almost overwhelming. I would have liked to sit down.
Dare I say it, but the careful and intricate workmanship in the use of gold in these paintings is a work of art in itself, which makes the items intrinsically art of great merit, even before anything else is taken into account.
On the other side of the room were paintings from the present day that share in common the use of gold as a background.
The ancient works are valuable because they are rare while the modern paintings are buoyed by hype.
The early paintings have their high values in common with the art on display at the Sotheby's Gallery on ave. de la Costa that has just announced the fact that it will be a permanent fixture. Sotheby's office used to be hidden away in the building opposite the Costa coffee shop on blvd. Princesse Charlotte.
In my view this is a very welcome and overdue move, overshadowed by the fact that its current exhibition is all about sheep. Well, mostly.
I dislike sheep intensely, and they are the only animal I eat. With great gusto, and gravy, but I will try to not allow this prejudice to flavour my judgement. And mint sauce, of course.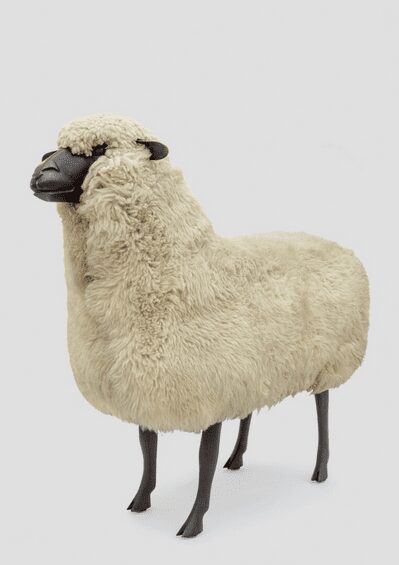 Baahly art… a Lalanne sheep
The sheep at Sotheby's are the work of the Lalannes, Claude and Francois-Xavier.
For me, they are worthless in practical terms. They cannot be eaten, with or without peas and roast potatoes. They are very mildly amusing, in the way sheep can be until you get to know them better.
Yet I am told they are valued at half a million or more. A small flock, currently grazing at Sotheby's, will set you back more than a million in any currency.
Already in Monte-Carlo there are art collectors with Lalanne sheep on their balconies, I am told.
Their value lies in the fact that they are rare and collectable, like gold bullion, for example. Or two hundred-euro notes.
But in terms of intrinsic artistic merit, take me back to the 13th century any day of Monaco Art Week.
MAIN PHOTO: Saint Augustine, painted (on wood) about 1405 by Nicolo di Pietro of Venice