A very modest Monegasque man, probably one of the most patented inventors in Monaco's history, appears to be about to turn the world upside down thanks to a new, disruptive, way of doing things.
The 39 year-old inventor Jeremy Hein has been working for years, alongside his co-inventor Martin Marschner, on a completely new type of linear electric motor compressor, a vital piece of equipment that is taken for granted as an essential component in everyday items such as refrigerators, air-conditioning or heat pumps.
There are compressors everywhere, and most operate on a rotary-based piston system that very few people have questioned. Until Jeremy came along that is!
Over the last decade, Jeremy and Martin's company, Magtor, have taken out more than 70 patents across 40 countries to help bring this revolution about and this number is continuing to grow.
The new compressor marks the end of the road for the rotary piston compressor that has been around for 120 years. In the most simple of terms, their new linear motor compressor technology is based on a drive shaft that oscillates thanks to a deceptively simple arrangement of permanent and electro magnets with an enhanced magnetic flux guidance system that sounds like it came from Back to the Future.
Being smaller and lighter, its key advantage is that it saves more than 30 percent of electrical energy in doing the same job as the existing technology.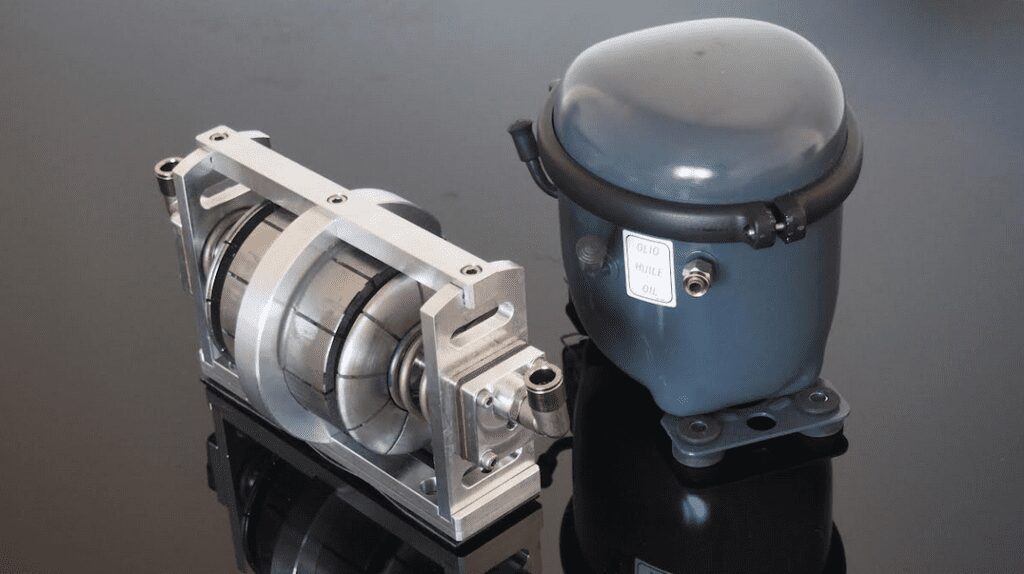 Magtor's revolutionary compressor (left) alongside a traditional, rotary-based piston compressor
Magtor is now at the stage of making its pre-production motors, built at its workshop in Vienna, with much of the work outsourced to specialist manufacturers.
At a time when energy efficiency is of critical importance in reducing dependence on oil, Magtor's product could not have arrived at a better moment for Monaco and the rest of the world.
Tim Humphreys, who works alongside Jeremy, puts it bluntly: "I now believe we can only succeed, because the needs of the world have changed and we are a massive disruptor."
Mostly operating in "stealth mode", Magtor's radical technology caused little excitement until presenting at COP 26 in Glasgow six months ago and being granted the Solar Impulse Efficient Solutions label; with the scramble towards greener energy and the increasingly pressing need to arrive at Net Zero, the Magtor compressor has a huge role to play and the level of interest shown by industrial players is now enormous.
Jeremy reminisces that Magtor has come a very long way since the start of the project in 2011, when the Magtor motor was born in his Monaco apartment, and where, as Tim remembers, the french windows of his sitting room were completely covered in mathematical formulae written in marker pen.
Jeremy's entrepreneurial background comes from his grandparents who founded the well-known Bettina brand in Monaco. He studied at FANB and went on to graduate as an engineer in Paris. He now commutes to Vienna on a regular basis and the company hopes to strengthen the ties with his home country by having its headquarters established in Monaco by the end of this year.
A video on the company's website magtor.tech explaining Magtor's motor and a subsequent showcase on the technology by the "Just Have a Think" YouTube Channel have produced an overwhelming response, Jeremy explains.
He stresses: "It's not me. What's important is the technology".
"We could be the biggest company in the world you have never heard of," adds Tim as the company's compressor will always be part of the appliances bearing their own brand name.
The Magtor company is about to reach level seven out of nine on the TRL (Technology Readiness Level) scale used by NASA, leaving the development stage and starting deployment and commercialisation.
The global addressable market is predicted to reach one billion units sold every year by 2030, which makes this green tech product
enormously scalable.
Changing the world has never been an easy task, but using a quote of Gandhi: "First they ignore you, then they laugh at you, then they fight you and then you win," Magtor is reaching out for the prize, however modestly.
Smiling as if he sees that this has a very good ring to it, Jeremy concludes: "We hope to become the first Monaco unicorn!"
MAIN PHOTO: Monegasque inventor Jeremy Hein
© This article is protected by copyright and cannot be copied, reused, posted to social media or otherwise disseminated without attribution and a hyperlink back to the original. Published by NEWS sarl, a company licensed and registered in the Principality of Monaco