The controversial project to remove part of the hill above Sainte Devote to accommodate a multi-storey property that will be partly underground appears to be moving ahead according to plan. The owner of the site is Russian billionaire Vladimir Melnichenko together with his wife.
He is among Russia's 200 wealthiest individuals and is reported to have retail interests in Moscow as well as a hotel in Germany. He is not on any sanctions list.
The Ecrin de Malachite project is due to be completed by 2025 to provide three villas of 'very high standing' plus a multi-storey building with eight apartments. The total surface area is projected to be 12,000 square metres, and the budget is 70 million euros plus tax. The architect for the project is Christian Curau, who is well-known in Monaco with an excellent reputation.
According to Ingetec SAM, whose expertise was called on for the project, the project sits on the lower end of Moneghetti and also in the protected valley of Sainte Devote. The project involved the demolition of four Belle Epoque villas and the building of the property complex on their initial footprint.
The properties are to be connected by glass-covered walkways and an escalator. The building will be on 11 levels, seven floors above ground and four basement floors.
According to the investigative website rucompromat, Vladimir Vasilyevich Melnichenko (71) graduated from the Kuzbass Polytechnic Institute, earning his first big money in the early 90s on trading operations, supplying coal from Kuzbass mines to neighbouring metallurgical plants. In 1995, he co-founded Sibuglemet, the largest producer of coking coal in Russia. In a consolidation of ownership in 2013, Vladimir Melnichenko reportedly received between 600 and 700 million dollars, of which he paid income tax in Moscow in the amount of 2.1 billion rubles.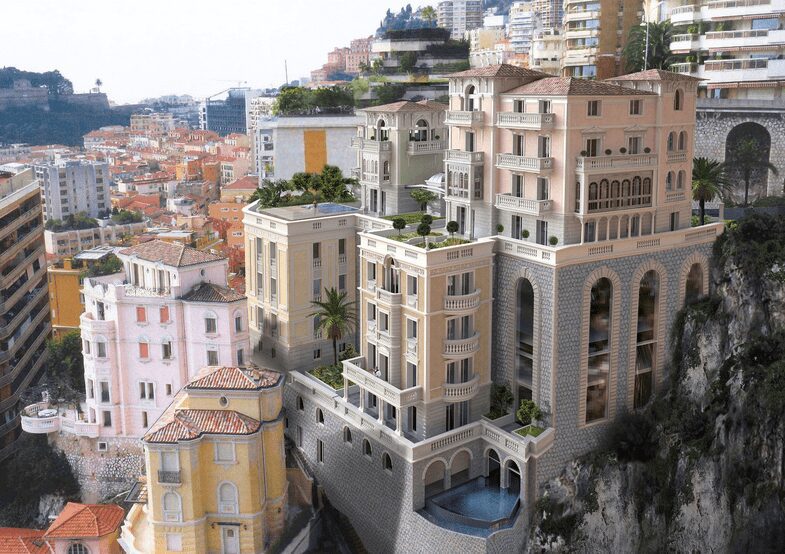 An artist's impression as submitted to the Communal Council in 2017 Christian Curau
Interestingly, when the huge redevelopment project in Monaco was first mooted, the destruction of four villas in such a prominent position was not strongly opposed by the Community Council, which answers to the Town Hall. In fact the body gave the project its approval.
Françoise Gamerdinger, deputy to the mayor at the time the project was discussed by the Community Council, said that in her view, strictly in terms of heritage, the four villas should be renovated and not demolished, although she voted in favour. Mayor George Marsan said that the application was in compliance with the regulations and the aesthetics of the site would be improved, "when we are already starting from four beautifully-crafted villas."
When the debate came to the elected National Council for consideration, Daniel Boéri – whose brief is culture – supported the project, saying: "These villas are in no way classified as notable buildings. As a result, they are not protected by a sovereign order. Private property is also protected by our constitution." Mr Boéri added that "past heritage and future construction can coexist in a framework that enhances the Principality."
MAIN PHOTO: Work continues on the Ecrin de Malachite project