Raised between the US and Europe, Marina maintains a truly cosmopolitan lifestyle, while now happily making her home in Monaco.
With her siblings Kira and Roy, she founded META Monaco, Monaco's up and coming luxury brand. META is also Monaco's first concept gallery located at Larvotto along the beautiful Avenue Princesse Grace. META engages in current events and collaborated with leading cultural institutions from Asia, USA and Europe; including the Prince Albert II Foundation, UNESCO and South Korea's Ministry of Culture.
Besides curating exhibitions featuring top artists from around the world, META sustains strong ethics when it comes to creating their jewelry and leather designs. All creations are handmade at META's Monte-Carlo based workshops. META's core is to create with mindfulness, respect for the environment and exercise wellness. As META's motto says, "Love is the way! "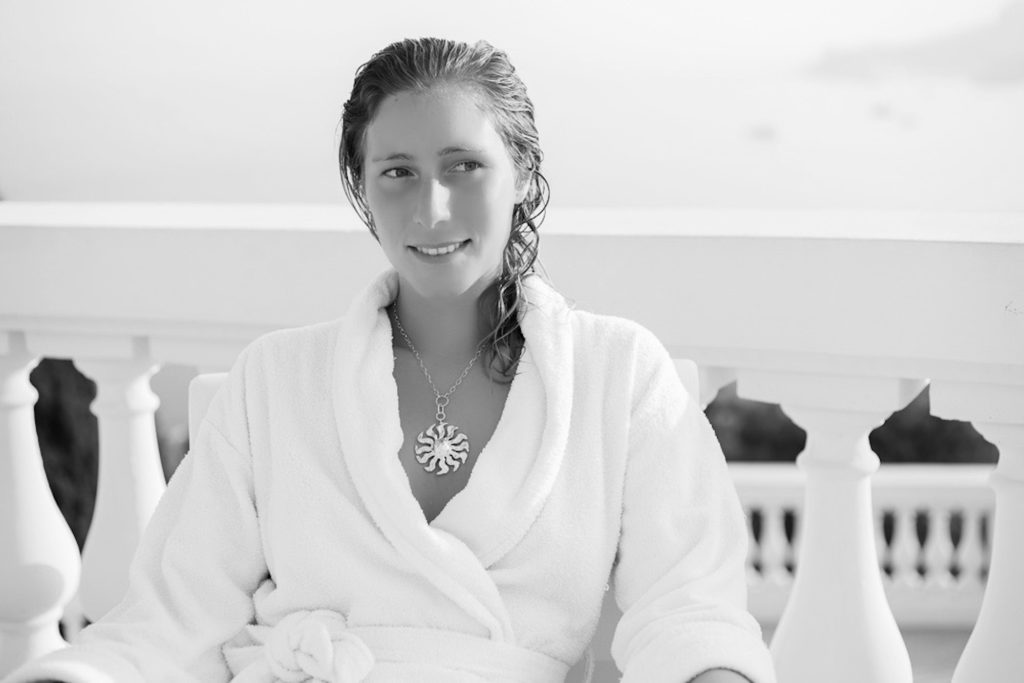 I get my morning coffee and croissant here
Larvotto Beach is where I love to be. Especially to kick-start the day with a dose of vitamin sea. On some mornings I love nothing more but a warm baked croissant and cappuccino from Miami Bar. And on other days, a freshly squeezed orange juice from La Note Bleu is perfection.
My favourite lunch spot
I love MayaBay because their Rock'n'Roll California sushi takes me back to Nobu Malibu. Being from the Bu, it melts my heart. Also, our gallery shop has a waterfront view so it makes it difficult to resist the walk across to the beach to enjoy lunch by the sea. Each restaurant along Monaco's beach has its specialty. And it's a delight to vary between the different atmospheres and explore all the wonderful options.
Best Friday night aperitif
Yacht Club de Monaco, playing pool while sipping a glass of champagne unwinds the weekend to a fine start. Otherwise, for a more low-key mellow ambiance I love going to Gerhard's Cave Wine Bar in Fontvieille.
Annual event I never miss
Grand Prix de Monaco, simply legendary.
Favourite time of year in the Principality
Sunrise and sunset, all year round. They're especially colorful during Fall and Winter. And it's exceptional when you can see all the way to Corsica on a really clear day. This usually occurs around the months of January and February.
My best Monaco workout
It's a dream to swim in the Mediterranean Sea with its mesmerizing shades of blue.
Where I go/what I do for "me time"
Walking in Monaco is always a pleasure. There are so many beautiful parks and green spaces. One of my favorite walks is to enjoy a moment along the sea often followed by a stroll through the Japanese garden. These promenades are a well of inspiration and continue to influence my creativity at META.
My go-to shop for last minute gifts
Not to state the obvious, but META is my go-to for good reasons— I love what we create! We have a variety of products with a wide range of prices. From high-end jewelry pieces to little gift ideas. There are gifts for all sorts of special occasions ranging from engagements, weddings, births to just to express a thank you or to say I love you. Our leather designs are popular to gift. And when I travel abroad, our META creations being handmade in Monte-Carlo, make the sweetest gifts as they carry within them the magic of Monaco.
A hidden gem I'm willing to share
Le Teashop, at Place des Moulins. I love infusions and this local shop run by a Monegasque family has the best herbal cocktails. All natural and fresh.
Best day trip out of town
It depends on the weather and the mood. Though a classic getaway would be a visit to Saint-Paul-de-Vence. The enchanting scenery always makes the trip a refreshing experience.
The one thing I would change about Monaco if I could
Monaco est le soleil de mon coeur. There's so much to be grateful for about living in the Principality, it's a paradise.
The Shout Out
Here's a shout-out to Monaco's clean energy initiatives and forward-thinking plans to help sustain the beauty and health of our planet. Otherwise on a local level, I'm thankful to Estoril Coiffure for always nailing my hair styling. They're great! Also, Terrae for their green thumb. And I'm excited for the opening of the Niwaki restaurant at Palais de la Plage.
Thank you Marina, for sharing your Monaco!
www.meta.mc
39, avenue Princesse Grace
Visits are by appointment
E-mail: contact@meta.mc
Instagram @meta_monaco