Editor-in-chief of Forbes Monaco Nancy Heslin can meet me at 10.30 at the Rowing Club's restaurant. She is rowing from 11.30 and we have an hour to catch up over coffee. As soon as I start recording it's obvious the interview is going nowhere as her fellow rowers start to hang around our table with small talk politely waiting to be invited to join us. One gentleman shares his misfortunes and exhibits deep and seriously painful-looking scars all over his left knee after his latest surgery.
It's totally clear that Nancy loves people and they love her. Ever since she started to work as a journalist at the Riviera Reporter in 2001 she has been writing about people, communities, stories full of human interest and happy endings, showcasing the best the Riviera has to offer. She was the third person on the team together with Mike Meade and Patrick Middleton (editor and publisher) and worked there for 16 years until they closed their printed publication.
"And then Ian Brodie asked me to help him with his website which was 100 percent about Monaco and I only then discovered Monaco – it is really a different community of people. I think people forget that the South of France and the French Riviera is Menton – Saint Tropez and back but it doesn't include Monaco, or you focus solely on Monaco but in terms of advertising it's very difficult to do both. Riviera Reporter worked around Monaco, we distributed here and we had people who were subscribers and we had Molly Brown who used to write for us in Monaco but altogether they are totally different markets."
"Also when I started work at Forbes Monaco for me the most difficult part was shifting audiences. I am used to writing about people and promoting people. My confidence is really based on being a good communicator in helping to showcase people and in Forbes I was having difficulties in doing that because they have a completely different level of who they will talk about – it was like let's start at 500 mil turnover and we'll go from that. How do you do that? First of all, nobody talks about money in Monaco. And nobody wants exposure – I think there is a lack of trust and we have developed a different type of profile to be able to highlight people and rather than talk about their money, use a human story that people didn't necessarily know about the person before. This sort of information may start networking, a conversation and dialogue."
The bi-monthly Forbes Monaco was first published in October 2018. The original plan was to publish in both French and English. When Nancy joined the team as Editor-in-Chief the publication came out only in English. And then 2020 came and as the drama of coronavirus started to unfold, Forbes faced two immediate challenges: "It's a printed publication, a brand new product, the printing was a challenge because everything shut down, so how does that impact your budget? And we had just started the website so we had absolutely nothing to fall back on."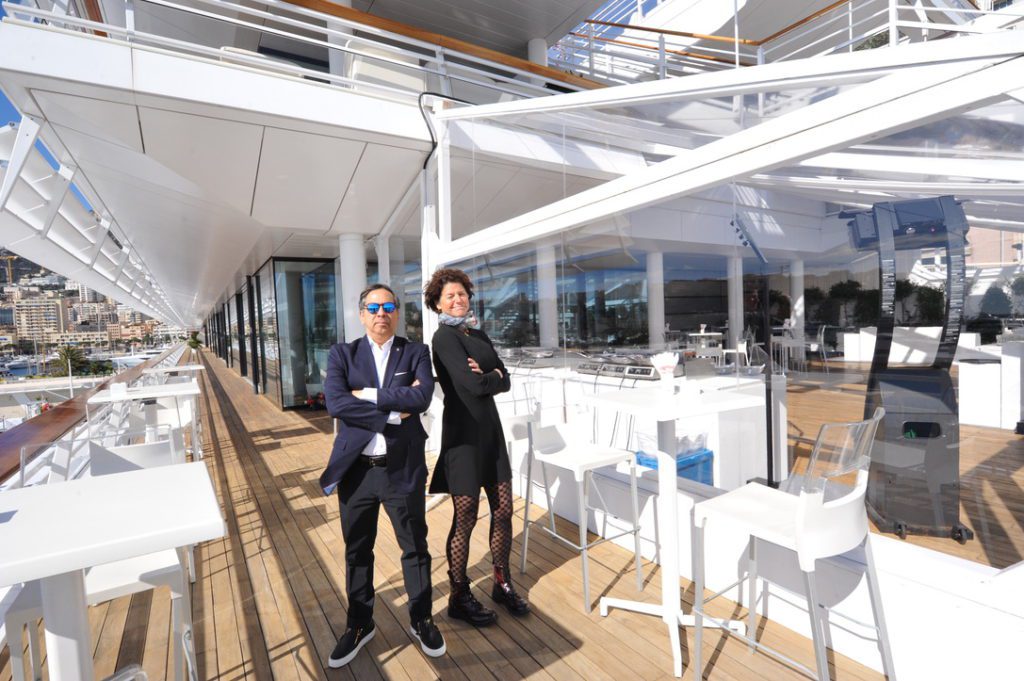 Nancy Heslin and Louiz F Costa Macambira CEO & Publisher Forbes Monaco & Forbes Netherlands (provided)
Nancy credits the success of the past two difficult years of fairly smooth running to the owner, Louiz F Costa Macambira. "I call Louiz the bowl of porridge that's just right. He is an entrepreneur, he is Brazilian but lived in the US and has all kinds of experience globally, but he has a real charm that you can't find anywhere else. He knows how to budget so he is treating this like a business and kept us afloat without debt even though we've had no events, we have published five times a year instead of six etc."
During the past three years Nancy admits she has met some extraordinary people who live in Monaco "that I would not have heard about and probably wouldn't be able to interview if it was not for Forbes."
She has also learned a fair amount about the topics she would probably not have covered too: finance, banking, cryptocurrency…the prospect of covering highly specific topics in an interview may seem terrifying. 
"It's the same advice I would give to people going to a dinner party and be nervous about it: People are interested in talking about themselves, so if you are uncomfortable about the topic it doesn't matter what you are saying – it matters what you are asking.and honestly if you ask one or two very processed and key questions that would lead to other things. It's not about you, it shouldn't be about you. I am confident but with age I realised what my talents are and I know that I make people comfortable and a lot of the time they talk to me with ease. As soon as I walk away they text me and tell me 'please do not publish what I told you' and I never would, of course."
We could not dodge the dreaded topic of coronavirus so I ask Nancy as a journalist, does she think coronavirus is overpopulating the news?
"Sensationalised headlines need to stop. Feeding the fear needs to stop. I no longer report on case numbers and deaths in Monaco because simply cutting and pasting numbers is not what I consider informing people. We need the data behind the figures to provide context…. I often think back to a conversation I had in Antibes with Henning Mankell, the Swedish author behind the Inspector Kurt Wallander series. He told me: 'We all know that the Internet is a good thing but we also must face its danger. Young people especially believe that information they can access very easily is the same as knowledge. It is not. Knowledge is the ability to critically look upon information and, if we lose that power, we will have a new generation with a lot of information who don't know shit about the world.' "
"For me, it is not the younger generations. Coronavirus has highlighted this danger across all ages."
While working at Forbes and overwhelmed with the negative news during the hardest time of the pandemic Nancy launched her "personal movement". "I wanted to do something to highlight the businesses because I think the best way we can support each other is to support local businesses so I believe that's why the Good News Monaco website really took off."
"I discovered the Rock – I didn't know that area at all and the stories of the businesses there brought me to tears. The shops on the Rock are traditional businesses, a lot of them without an online presence. Without tourists, cruise ships and visitors from town – they were literally on their knees."
The first story about Alexandra Rinaldi from 5 Saveurs was published in November 2020 and soon enough Good News Monaco attracted attention and similar stories followed.
A passionate project got Nancy out of her comfort zone and she appeals to others to do the same: "We all live in our little parts of Monaco, in easy places, maybe we only visit shops or corners where we can speak English but try to visit a local bakery and find out their story, visit the Rock, Alexandra and buy five euros worth of stuff and make a difference to her."
We agree that a lot of time it is a case of a language barrier – it's clear that the Monegasque and French community is not so much integrated in the non-French communities. And vice versa. French was definitely what helped Nancy, born in Montreal Canada, and is fully-bilingual. In 2010 she became a French citizen.
"My team at Forbes is mostly French and we speak French. Just before coronavirus I joined the rowing club and I am on the board here and that's all in French and I think that being involved in a French community here is what makes a lot of difference."
But also the knowledge that what is around the corner may be rather exciting.
"When I started at the Riviera Reporter I was terrified and anxious a lot of the time. What happens if the publication closes? What am I going to do, everybody knew me as Nancy from The Riviera Reporter and the financial challenges we were always facing and then I read this amazing quote from Gloria Steinem and I think that was when she was in her 70s, and they asked her what are your regrets and she said: I regret that when I learned to do something well I didn't move on".
Nancy grew up with the idea that she wanted to be a writer. She writes every day and also loves her swimming, swimrunning and rowing.
She met her Canadian husband in 1990 in a French immersion program in Quebec and they fell madly in love. "He proposed the same year and I said 'no' and spent 20 years regretting it. They eventually got married in 2010.
"I feel very privileged but I don't want to call it luck, maybe good timing where you just happen to be and making the most of the opportunities and the other advantage I have in life is that I do not think I was born with the envy gene. I do not want to have anybody else's life. I truly honestly love my own."