Saturday 6
'You and Me' – Mummenschanz
Swiss mask and puppet theatre troupe Mummenschanz present a special show called 'You and Me'. The show will commence from 15:00 in the Salle Prince Pierre of the Grimaldi Forum.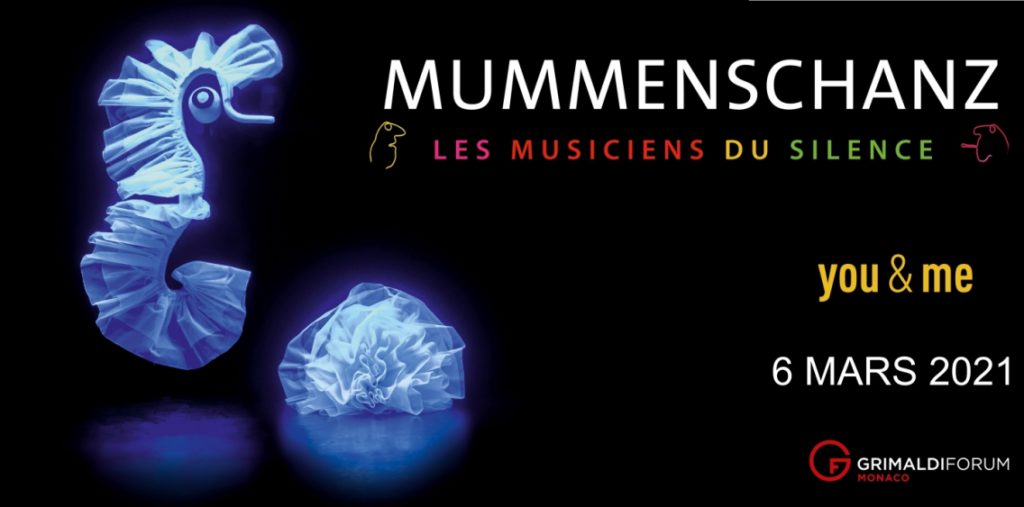 To discover more, click here. Tickets can be reserved here.
---
MY ART GOES BOOM
This very colourful art exhibition is devoted to the explosive creativity of artists from Monaco and the surrounding Riviera. The Gallery Entrepôt will open its doors for this exhibition, in partnership with the Art-Box.Store
The exhibition will run from March 6 until March 11, and will be free to visit. The gallery is located on 22 Rue de Millo, Monaco
---
Sunday 7
Genius – an OPMC production
The Monte Carlo Philharmonic Orchestra present this 2020/21 Grande Saison production, from 13:00 at the Auditorium Rainier III. The performance will feature David Fray on the Piano, with music from Bach and Mozart.
To discover more, click here. Tickets can be reserved here.
---
Looking ahead
Historic Monaco Grand Prix – April 25
artmonte-carlo – April 29 to May 3
Monaco E-Prix – May 8
Monaco Formula 1 Grand Prix – May 23
Carmina Burana – an OPMC production – May 29 and 30
60th Monte-Carlo Television Festival – June 18 to 22
---
In the cinema this week
Unfortunately, the Cinema des Beaux-Arts has been closed until further notice as a result of the partial lockdown of France and the curfew in the Principality. Look out for updates in future editions of 'This Week in Monaco'.
---
Featured image: Mummenschanz