Mercedes' hardcore division, AMG, is back in black with its latest creation. The AMG GT Black Series. A quick google search will reveal the entire timeline of the infamous 'Black Series' bloodline. The first automobile to bear the black label was the SLK55 AMG Black Series which put out a respectable 400bhp in 2006. Fast forward to 2020 and the human race is presented with the 720bhp, aero-adorned AMG GT Black Series.
Attention to heritage, then, and just as well. The Germans certainly have experience in sending their exotica around a track, quite often then not at a sideways angle. The 2020 GT BS is AMG at its best and least restricted. The latest instalment will do 0-60 mp/h in 3.2 seconds and will continue to push until 202 mp/h. Definitely enough to satisfy its track ambitions. AMG has been able to add 143bhp to the already impressive engine found in the GTR pro, the now second most premium of the GT family. The AMG 4.0L twin-turbo V8 has been thoroughly upgraded, but does this justify the £140,000 price difference from the GTR Pro? At £330,000 the car's no bargain but you can score a whole supercar with that price margin!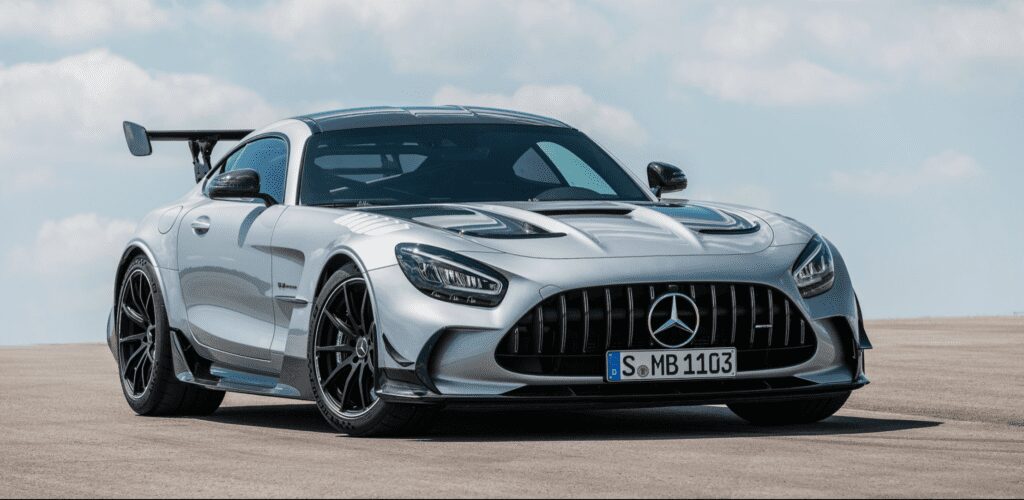 The price tag's justification continues to the exterior of the car where there is a clear difference between the models. It is said by Mercedes themselves that the GT Black Series design is directly derived from the AMG GT3 race car. Just look at all that aero. The giant louvres cut into the wheel arches relieve pressure and improve downforce, adding to the downforce already being created by that substantial spoiler. The line between this GT being a track-only weapon and also having the ability to terrorise regular roads is razor thin. Just manually extend the front splitter and you've crossed that line.
This car caters to both ends of the supercar buyers' spectrum. Collectors won't have trouble enjoying this model from a safe distance and the rich racers out there will have a blast carving corners and tearing up long straights in this latest engineering marvel from Affalterbach. AMG isn't putting a production limit on this model but will only build them for a limited time. Regardless, the AMG GT Black Series will surely take its place on Casino Square very soon.